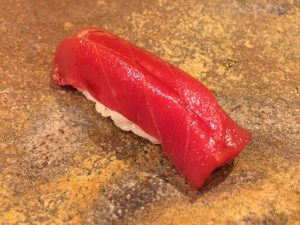 You don't want to find yourself in a Sushi restaurant not knowing enough about the fish on offer. Here we will introduce all the different types of Edo-style Sushi (Edomaesushi) Ingredients. *Japanese terms will be italicized on sushi ingredients page.
<Akami-Red flesh fish>
Binnaga maguro-Longfin white tuna
Katsuo-Bonito (Oceanic bonito, Striped tuna)
Kihada maguro-Yellowfin tuna
Maguro (Kuromaguro, Honmaguro, Shibi)-Bluefin tuna
Makajiki-Striped marlin
Mebachi maguro-Bigeye tuna
Mekajiki-Swordfish
Minami maguro (Indo maguro)-Southernbluefin tuna
Suma-Wavyback skipjack, Eastern little tuna
We hope this information will be helpful.

Revision date: March 27, 2018