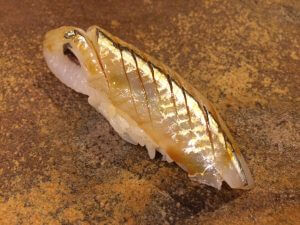 The silver sparkling skin and mouth-filling umami that you almost feel salty scent from the sea. Mostly served vinegared, Gizzard shad (Kohada) is the first on the list, Kasugo and Saba. Taking a lot of time and effort, hikarimono is the sushi topping that also shows professionalism of a sushi chef. Th ere are many people finding it hard to eat but it is actually healthy and rich in nutritive value. *Japanese terms will be italicized on sushi ingredients page.
<Hikarimono - Silver-skinned fish>
Aji (Maaji) - Japanese horse-mackerel
Ayu - Ayu
Ebodai- Japanese butterfish
Gomasaba- Spotted mackerel
Hamo -Daggertooth pike conger
Hatahata - Japanese sandfish
Iwashi - Sardine
Kasugo- Young Crimson sea bream
Kisu - Japanese whiting
Kohada - Gizzard shad
Mamakari - Big-eye sardine
Saba - Pacific mackerel
Sanma - Pacific saury
Sayori - Halfbeak
Shinko - Baby Gizzard shad
Tachiuo-Largehead hairtail (Cutlassfish, Scabbardfish)
Tobiuo - Japanese flyingfish
We hope this information will be helpful.

Revision date: October 10, 2020