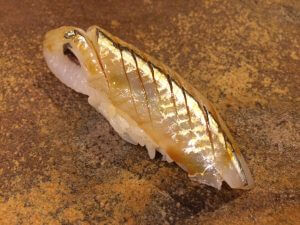 You don't want to find yourself in a Sushi restaurant not knowing enough about the fish on offer. Here we will introduce all the different types of Edo-style Sushi (Edomaesushi) Ingredients. *Japanese terms will be italicized on sushi ingredients page.
<Hikarimono - Silver-skinned fish>
Aji (Maaji) - Japanese horse-mackerel
Ayu - Ayu
Gomasaba- Spotted mackerel
Hamo -Daggertooth pike conger
Hatahata - Japanese sandfish
Iwashi - Sardine
Kisu - Japanese whiting
Kohada - Gizzard shad
Mamakari - Big-eye sardine
Saba - Pacific mackerel
Sanma - Pacific saury
Sayori - Halfbeak
Shinko - Baby Gizzard shad
Tobiuo - Japanese flyingfish
We hope this information will be helpful.

Revision date: March 27, 2018