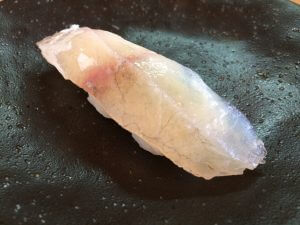 The first item recommended to taste is white-flesh fish. Because of its subtle flavor, it doesn't influence the following topping. Serving it for the very first piece of sushi is a standard move. However, absolute umami in the lightness can be taken as the details Japanese love and no other sushi toppings can offer. By the way, salmon is categorized as white-flesh fish. *Japanese terms will be italicized on sushi ingredients page.
<Shiromi-White flesh fish>
Ainame-Green ling
Amadai-Horsehead tilefish
Ara-Rock-cod
Budai-Japanese parrotfish
Buri-Japanese amberjack
Ebotai (Ibodai)-Butterfish
Engawa-Thin muscle of the dorsal fin of Japanese flounder, Marbled sole, etc.
Fugu (Torafugu)-Globefish (Blowfish, Puffer )
Hakkaku-Sailfin poacher
Hiramasa-Amberjack
Hirame-Japanese flounder (Olive flounder)
Hoshigarei-Spotted halibut
Houbou-Bluefin searobin
Inada-Japanese amberjack (30〜40cm)
Isaki-Striped pigfish
Ishidai-Barred knifejaw
Ishigarei-Stone flounder
Kamasu (Akakamasu)-Barracuda
Kanpachi-Greater amberjack
Kasago-Marbled rockfish
Kasugo (Chidai, Kidai)-Baby Red sea-bream (Crimson sea-bream, Eellowback sea-bream)
Kawahagi-Filefish
Kijihata (Akou)-Redspotted Grouper
Kinki (Kichiji)-Thornhead
Kinmedai-Splendid alfonsino
Kochi (Magochi)-Bartail flathead
Koshodai-Crescent sweetlips
Kue-Longtooth grouper
Kurodai (Chinu)-Blackhead seabream
Kurosoi-Black rockfish
Mahata (Hata)-Grouper (Rock-cod, Seven band grouper)
Makogarei-Marbled sole
Matsukawagarei-Barfin flounder
Mebaru-Rockfish
Medai-Japanese butterfish
Meichidai-Nakedhead
Mejina-Greeenfish (Nibbler, Rudderfish)
Mutsu-Japanese bluefish
Nametagarei (Babagarei)-Slime flounder
Nodoguro (Akamutsu)-Blackthroat seaperch
Okoze (Oniokoze)-Devil stinger
Sake -Salmon
Sawara-Japanese spanish mackerel
Shima aji-Crevalle jack (Trevally)
Suzuki-Japanese seaperch
Tai (Madai)-Red sea-bream
Tara (Madara)-Pacific cod
Umazurahagi-Leatherfish
We hope this information will be helpful.

Revision date: October 10, 2020