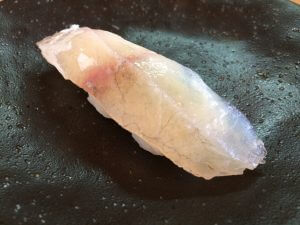 You don't want to find yourself in a Sushi restaurant not knowing enough about the fish on offer. Here we will introduce all the different types of Edo-style Sushi (Edomaesushi) Ingredients. *Japanese terms will be italicized on sushi ingredients page.
<Shiromi-White flesh fish>
Ainame-Green ling
Amadai-Horsehead tilefish
Ara-Rock-cod
Buri-Japanese amberjack
Ebotai (Ibodai)-Butterfish
Engawa-Thin muscle of the dorsal fin of Japanese flounder, Marbled sole, etc.
Fugu (Torafugu)-Globefish (Blowfish, Puffer )
Hiramasa-Amberjack
Hirame-Japanese flounder (Olive flounder)
Hoshigarei-Spotted halibut
Houbou-Bluefin searobin
Inada-Japanese amberjack (30〜40cm)
Isaki-Striped pigfish
Ishidai-Barred knifejaw
Ishigarei-Stone flounder
Kamasu (Akakamasu)-Barracuda
Kanpachi-Greater amberjack
Kasugo (Chidai, Kidai)-Baby Red sea-bream (Crimson sea-bream, Eellowback sea-bream)
Kawahagi-Filefish
Kijihata(Akou)-Redspotted Grouper
Kinki (Kichiji)-Thornhead
Kinmedai-Splendid alfonsino
Kochi (Magochi)-Bartail flathead
Kue-Longtooth grouper
Kurodai(Chinu)-Blackhead seabream
Kurosoi-Black rockfish
Mahata (Hata)-Grouper (Rock-cod, Seven band grouper)
Makogarei-Marbled sole
Matsukawagarei-Barfin flounder
Mebaru-Rockfish
Medai-Japanese butterfish
Meichidai-Nakedhead
Mejina-Greeenfish (Nibbler, Rudderfish)
Mutsu-Japanese bluefish
Nametagarei (Babagarei)-Slime flounder
Nodoguro (Akamutsu)-Blackthroat seaperch
Okoze (Oniokoze)-Devil stinger
Sawara-Japanese spanish mackerel
Shimaaji-Crevalle jack (Trevally)
Suzuki-Japanese seaperch
Tachiuo-Largehead hairtail (Cutlassfish, Scabbardfish)
Tai (Madai)-Red sea-bream
Tara (Madara)-Pacific cod
Umazurahagi-Leatherfish
We hope this information will be helpful.

Revision date: March 27, 2018