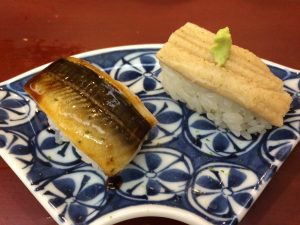 There are only high rank toppings such as rich tasting sea urchin (Uni), salmon roe (Ikura) and herring roe (Kazunoko). All different from other sushi toppings when it comes to a texture and flavor. A lot of them have become widespread ever since the technique of gunkan style sushi was established after the war. *Japanese terms will be italicized on sushi ingredients page.
<Others>
Akauni-Red sea urchin
Anago-Japanese conger
Bafununi-Short-spined sea uruchin (Green sea urchin)
Ezobafununi-Short-spined sea urchin
Hamo-Daggertooth pike conger
Hoya-Sea squirt
Ikura-Salmon roe
Kazunoko-Herring roe
Kitamurasakiuni-Northern sea urchin
Komochikonbu-Herring spawn on kelp
Murasakiuni-Purple sea urchin
Namako-Sea cucumber
Noresore-Young Japanese conger
Shirako-Globefish testis
Shirohige-White spin sea urchin
Sirauo-Icefish
Tamago-Egg omelet
Tarako-Cod roe
Tobiko-flying fish roe
Unagi-Japanese eel
We hope this information will be helpful.

Revision date: March 27, 2018