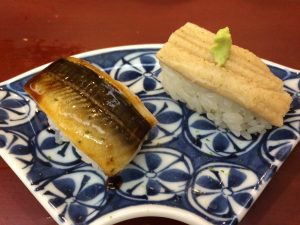 You don't want to find yourself in a Sushi restaurant not knowing enough about the fish on offer. Here we will introduce all the different types of Edo-style Sushi (Edomaesushi) Ingredients. *Japanese terms will be italicized on sushi ingredients page.
<Others>
Akauni-Red sea urchin
Anago-Japanese conger
Bafununi-Short-spined sea uruchin (Green sea urchin)
Ezobafununi-Short-spined sea urchin
Hoya-Sea squirt
Ikura-Salmon roe
Kazunoko-Herring roe
Kitamurasakiuni-Northern sea urchin
Komochikonbu-Herring spawn on kelp
Murasakiuni-Purple sea urchin
Namako-Sea cucumber
Noresore-Young Japanese conger
Shirako-Globefish testis
Shirohige-White spin sea urchin
Sirauo-Icefish
Tamago-Egg omelet
Unagi-Japanese eel
We hope this information will be helpful.

Revision date: March 27, 2018