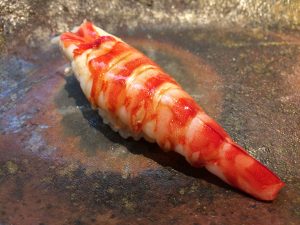 Crustaceans like shrimp and crab are sushi toppings overflowing with their distinctive sweetness. *Japanese terms will be italicized on sushi ingredients page.
<Ebi/Kani-Prawn/Crab>
Aka ebi-Argentine Red Shrimp
Ama ebi-Deepwater prawn (Deepwater shrimp, Pink prawn)
Black tiger (Ushi ebi)-Black tiger
Botan ebi-Botan shrimp (Pink prawn, Pink shrimp)
Gasa ebi-Argis lar
Ise ebi-Japanese spiny lobster
Kegani-Horsehair crab (Korean crab, Kegani crab)
Kuruma ebi-Kuruma prawn
Sakura ebi-Sakura shrimp
Shako-Squilla (Mantis shrimp, Edible mantis shrimp)
Shima ebi-Morotoge shrimp
Shiro ebi (Shira ebi)-Japanese glass shrimp
Tarabagani-King crab (Alaska king crab, Red king crab)
Zuwaigani-Snow crab (Queen crab, Zuwai-crab)
We hope this information will be helpful.

Revision date: December 2, 2016