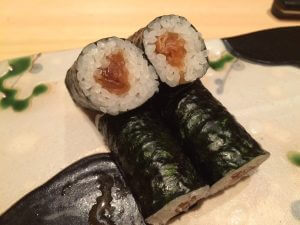 You don't want to find yourself in a Sushi restaurant not knowing enough about the fish on offer. Here we will introduce all the different types of Edo-style Sushi (Edomaesushi) Ingredients. *Japanese terms will be italicized on sushi ingredients page.
<Norimaki-Seaweed roll>
Anakyu maki-Gizzard shad and Cucumber roll
Himokyu maki-Mantle of ark shell and Cucumber roll
kanpyo maki-Sweet-simmered kanpyo (dried gourd strip) roll
Kappa maki-Cucumber roll
Kohada maki-Gizzard shad roll
Namida maki-Vinegared rice and thin strips of Wasabi rolled in seaweed
Negitoro maki-Green onion and toro roll
Shinko maki-Pickled radish and shiso plant roll
Takuwan maki-Pickled radish roll
Tekka maki-Norimaki sushi roll with red tuna and grated wasabi at the core
Torotaku maki-Toro and Pickled radish roll
Umeshiso maki-Pickled ume and shiso plant roll
We hope this information will be helpful.

Revision date: October 15, 2020