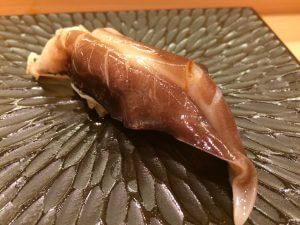 You don't want to find yourself in a Sushi restaurant not knowing enough about the fish on offer. Here we will introduce all the different types of Edo-style Sushi (Edomaesushi) Ingredients. *Japanese terms will be italicized on sushi ingredients page.
<Kai-Shell>
Akagai-Ark shell
Aoyagi (Bakagai)-Rediated trough-shell (Surf-clam)
Awabi (Kuroawabi)-Japanese abalone
Baigai-Japanese ivory-shell
Ezoawabi-Ezo-abalone
Hokkigai-Hen-clam
Hotate-Common scallop (Giant ezo-scallop, Frill, Fan-shell)
Ishigakigai-Bering Sea cockle
Iwagaki-Rock-oyster
Kaki (Magaki)-Oyster
Kobashira-The adductor of bakagai shellfish (Rediated trough-shell)
Madakaawabi-Giant abalone
Megaiawabi-Disk abalone
Mirugai (Honmirugai)-Otter-shell (Keen's gaper)
Namigai (shiromiru)-Japanese geoduck
Nihama-Common orient clam (Japanese hard clam, White clam)
Sazae-Spiny top-shell
Shirogai (Manjugai, Saragai)-Northern great tellin
Tairagi (Tairagai)-Pen-shell (Fan-shell)
Tokobushi-Tokobushi abalone
Torigai-Egg-cockle (Heart-shell)
Tubugai (Matsubu)-Ezo-neptune (Whelk, Winckle)
We hope this information will be helpful.

Revision date: December 2, 2016