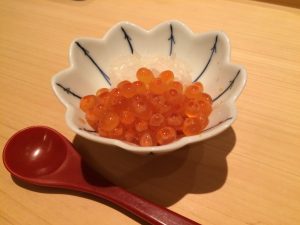 The natural salmon roe season is the autumn. Does this mean that most of the roe eaten during the off-season is artificial Salmon roe. Not necessarily. As stated in his biography, even at the famous sushi restaurant Sukiyabashi Jiro, frozen roe is thawed as necessary.
Long ago this was an extremely expensive topping that ordinary people couldn't afford, so artificial roe was used. There was a time when this was the case. But nowadays salmon roe is regularly imported from overseas and can be obtained cheaper, eliminating the need to use artificial roe instead.
However, we cannot overlook the commercial law for passing off artificial roe as natural roe. In Japan, the non-perishable properties of artificial salmon roe made from chemical substances (mainly sodium alginate) is utilized and used mainly in hospitals, but not sold to the general public. I'll also tell you that it is very rare to find a sushi restaurant that serves artificial roe. Cheap roe is generally made from eggs of trout, other related species, or imported from Canada and other countries.
Unfortunately I'm not familiar with the state of things outside of Japan, but I can tell you how to tell the difference. All it takes is hot water and a moment of observation. Artificial salmon roe will show no changes in hot water, but natural roe will start to turn white on the surface. This is due to the protein reacting and changing with the heat. That said, this is not an experience you can just set up at the sushi restaurant.
As an aside…
What are the fish eggs on sushi called in Japan?
There are eight types of fish eggs served at Japanese sushi restaurants. However, not all of them are used for Nigiri sushi. Some are served as side dishes. Uni is sometimes translated as sea urchin's roe, but it is actually the sea urchin's genitals (testes and ovaries). Most people also don't know that Tobiko and Tarako are not served at 99% of Edo-style restaurants. In other words, these toppings are only served at kaiten-sushi (conveyor belt) restaurants. The one type of roe topping that can probably be found at all sushi restaurants is Ikura. Even more types of fish eggs, such as Masago, Paddlefish roe and Hackleback roe are used in sushi overseas, but Japan remains more conservative. Of course, it's only natural that fish substitutes are not well-received in the place where sushi was born.
Types of fish roe
What is Ikura? - It is Salmon roe.
What is Kazunoko? - It is Herring eggs.
What is Sujiko? - It is Salmon roe that is still within its egg membrane.
What is Tobiko? - It is Flying fish roe.
What is Tarako? - It is Walleye pollock roe.
What is Caviar? - It is Sturgeon roe.
What is Karasumi? - It is Dried mullet roe.
What is komochi konbu? - It is Herring spawn on kelp.
What is Msago? - It is smelt roe.
Just for your own information.
Related contents:What is Artificial caviar?
---
We hope this information will be helpful.

Revision date: January 5, 2021