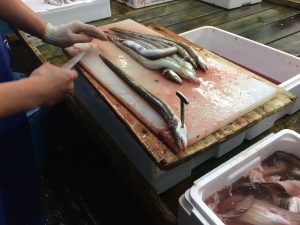 Many overseas visitors who aren't used to eating fish have an aversion to fishy smells. This is actually the smell of a substance called trimethylamine and is generated by the breakdown of the umami component called trimethylamine oxide found in large amounts in fish by bacterial growth. The smell also gets stronger with the generation of ammonia as more time passes.
Bacterial growth can be controlled with refrigeration so toppings at sushi restaurants are kept cold. Trimethylamine is an alkaline, so smells can be eliminated by washing with vinegar, which is acidic. It is also possible to kill bacteria on the surface of the fish by soaking it in vinegar, reducing the number of bacteria. Basically, sushi restaurants are constantly taking measures to prevent bacterial growth and avoid fishy smells.
---
We hope this information will be helpful.

Revision date: February 19, 2018