Between the time Edomae sushi was born (1810-1830) and around 1930, the toppings used in nigiri-sushi were strictly limited to slices of seafood. There were no so-called delicacy toppings (such as salmon roe and sea urchin, etc.).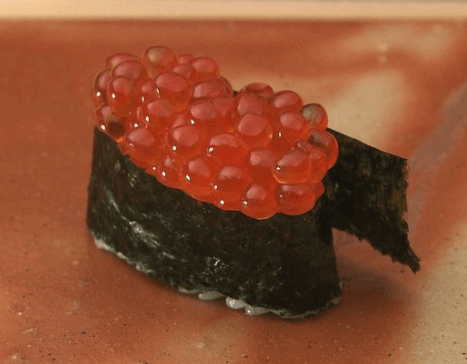 However, in 1934, a restaurant in Ginza called Kyubey started a revolution. This restaurant is still synonymous with high-end sushi, but at that time many political and business people went there as well. Then, one night… Apparently, one of the regular customers was tired of eating ordinary sushi and said to the chef, Hisaji Imada, "I want to eat some sushi that is more unusual. Ikura (Salmon roe) sounds like it would make good sushi," as a joke. Imada, who took these words seriously, thought to himself, "But the roe would fall off if put directly on the shari (vinegar rice)," and racked his brain that night for a solution. Finally, he had an idea and said, "I know, I could just surround shari with seaweed and put salmon roe in it." This is how the Ikura Gunkanmaki was born.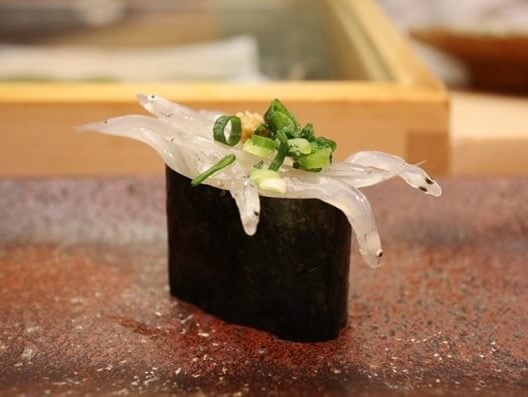 Next, when that customer came in again and Imada nervously served him his new Ikura sushi concept, it was received much better than expected. Gaining confidence from this reaction, Chef Imada put it on his regular menu. The story goes that rumors of the delicious taste spread and other sushi restaurants started to copy it. Then, the term "ikura gunkan-maki"(salmon roe battleship roll) was coined.
Nowadays, everything is used as battleship roll toppings from sea urchin to shirauo to negi-toro to mayonnaise and canned tuna-fish. It goes without saying that it all started with salmon roe.
---
We hope this information will be helpful.

Revision date: September 25, 2020
---
Share this article