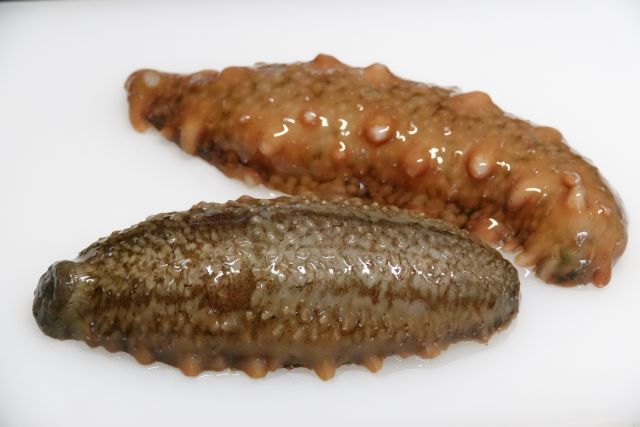 What is Namako (Sea cucumber)?
Namako (Sea cucumber) is a slender invertebrate measuring 20~30 cm in length. It has numerous protrusions on its body surface. The spawning season is from late spring to early summer, and the season is winter. Its scientific name is Apostichopus armata (Selenka, 1867).
There are three types of Namako (海鼠): Aka-namako (brownish-brown), Ao-manako (bluish), and Kuro-namako (blackish). Aka-namako has an elegant aroma and a strong, crunchy texture when eaten raw, while Ao-manako has a stronger scent of the sea, is moderately soft, and is less expensive than Aka-namako. Kuro-namako, on the other hand, is mainly used as a high-end ingredient in Chinese cuisine. The difference in color is due to the difference in habitat, which is the same namako.
What does Namako (Sea cucumber) sushi taste like?
To prepare Namako, it is first gutted and washed with salt. Afterward, the sea cucumber may be quickly passed through Bancha to remove its distinctive odor and soften its meat. It is then sliced into 2-3 mm thick slices and soaked in vinegar quickly. This is then served in a Gunkan maki. However, it is rare for it to be served as sushi, and is often served as a vinegared dish.
---
We hope this information will be helpful.

Revision date: February 28, 2023
---
Share this article