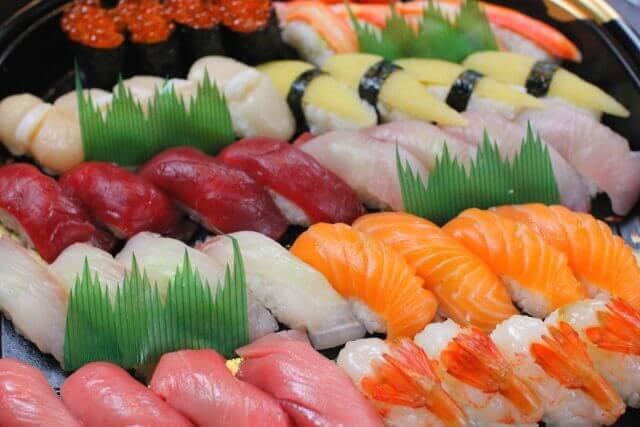 Nigiri sushi is generally made with raw seafood. It can be said that the seafood starts to go bad as soon as it is put on warm rice. Of course, at the stage of preparation, there are procedures being taken to reduce the causative micro-organisms of food poisoning. Out of all food that is commonly eaten raw, sushi is considered to have the least micro-organisms that cause food poisoning.
For example, Vibrio parahaemolyticus, a typically known bacteria that causes food poisoning, attaches to seafood, and if the conditions, such as temperature, are just right, it proliferates at double the speed of other food poisoning bacteria. When you are eating at a sushi restaurant, bacteria growth is being suppressed. However, if you take sushi home to eat it, depending on conditions bacteria could proliferate.
This is why as a basic rule, you cannot take sushi home from a sushi restaurant.
So then, what is the difference between sushi sold at the grocery store and prepared at sushi restaurants?
There are obvious differences between sushi made by sushi chefs and take-out sushi, as explained below.
Take-out sushi is lined up at the store, selected by the customer, then eaten at home, which takes time. Therefore, a higher amount of salt seasoning is used compared to Nigiri sushi restaurants, in order to delay the degradation in quality. Sushi made by sushi chefs at restaurants has a salt content of about 1% in the sushi rice, while that of take-out sushi has about a 2% content.
Next, with a pH of around 4.5%, it is difficult for bacteria such as Salmonella, Staphylococcus aureus, E. coli bacterium bacteria and Vibrio parahaemolyticus to proliferate, and there are experimental results that show they die out. In an experiment that measured the pH of sushi rice in take-out sushi, it was usually measured at 6%. Nigiri sushi made at a restaurant is often around 6.2%, so this acidity is put to good use in the sushi rice and could be delaying degradation.
Furthermore, although it may not be a pleasant topic of discussion, preventing spoiling and deterioration in food caused by micro-organism is done by adding preservatives to improve the shelf life. For example, classic preservatives such as benzoic acid, Sorbic acid and PH adjusters are used all over the world. There is an obligation to list these on the product label when used.
Now let's get into the main topic.
This all being said, sometimes when you buy take-out, there are leftovers. There is no question that it is better to promptly discard them. But you may think that you can just eat it the next day, right?
You can. And it will taste the same as when you bought it.
First of all, there is something important to remember; not all toppings are equal in take-out. Unfortunately, things that require freshness like shellfish, squid, mackerel and sardines, cannot be saved. These must be consumed on the day they are bought.
Next, let's go over how to eat your day-after sushi so that it still tastes good.
The toppings this method works for are tuna, salmon, white fish and steamed shrimp. However, the only white fish it works for are benthic fish such as flounder. As long as the meat is still transparent the next day, it's safe. For Hamachi, which always has more than 20% body fat, which oxidizes, so avoid keeping it to the next day. Raw shrimp is out too. Steamed shrimp becomes more delicious when quickly put into sushi vinegar for storage.
The method is simple!
First, remove the Nigiri sushi topping from the rice. Next, wash that topping with running water for a few seconds and then dry well with a paper towel. Make sure you are quick in all of these steps. Finally, wrap in plastic wrap and store in the refrigerator.
Next, use a wet paper towel to wrap the sushi rice. Wrap this set in plastic and put it in the vegetable drawer if possible. If you don't have a vegetable drawer than the normal refrigerator compartment is fine.
The next day, when you are ready to eat, heat the sushi rice in the microwave at 1000W for 10 seconds. The point is just to warm it up a little. Next, just take the topping from the refrigerator and place it on the rice. You can add some wasabi if necessary.
Incidentally, if you use this method for take-out sushi, even when consuming it on the same day, it will taste even better than just eating it right away.
The practice of sushi chefs is to put somewhat cold sushi toppings (16~19℃) or room-temperature toppings (20~23℃) on top of sushi rice that is the same temperature of the human body (37℃). We are trying to imitate this method. If you are consuming on the same day, any topping can be removed from the rice and prepared like this.
But please do not wait any longer than the next day to eat any leftovers.
Do not bend this rule. Let me warn you that the symptoms of food poisoning from shellfish and silver-backed fish are horrible. It should also go without saying that if the sushi rice has already dried out, there is no bringing it back, even with this method. Once you've reached that point, you just have to throw it away. Naturally, you cannot eat smelly sushi toppings.
---
We hope this information will be helpful.

Revision date: April 1, 2022
---
Share this article