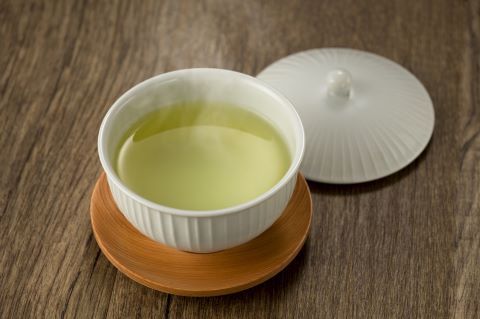 When it comes to green tea, I'm sure you've heard of Gyokuro (玉露) and Matcha (抹茶), but you are likely not familiar with Konacha (粉茶) and Mecha (芽茶). Let's remedy that by explaining both Konacha and Mecha here.
First and foremost, the three broad tea categories based on the processing method of the young leaves include green tea, oolong tea and black tea, but these are all made of leaves picked from the same trees, and then end up as completely different teas just by changing the processing method. Oolong tea and black tea are made by artificially fermenting the tea leaves as part of the processing. On the other hand, green tea is made without fermentation. The raw material of green tea that is eventually made into Sencha, Gyokuro and Tencha (碾茶), which is the raw material for Matcha among others. Then Konacha, Mecha, etc. are byproducts of the process for making Sencha and Gyokuro.
First of all, Sencha is the foundation of Japanese tea.
Sencha is known for its gentle flavor with a lingering, but subtle sweetness amidst the inherent fresh scent and bitterness. Generally, the color of Sencha is a transparent yellowish gold. Freshly picked tea leaves are immediately steamed, stopping the fermentation process. The steaming process gives each completed, individual tea leaf a deep green color. Tea was originally introduced to the world from China, but Sencha is the only tea with a unique, deep flavor created by Japan. About 80% of the tea produced in Japan is said to be Sencha. The most delicious Sencha comes around from the end of April to May, which is the beginning of the tea season. The appropriate volume of tea when steeping for one person is 2 to 3 grams of tea leaves to 70 milliliters of hot water and the appropriate water temperature is around 70℃ in order to bring out the sweetness and umami.
Next, we'll describe Gyokuro.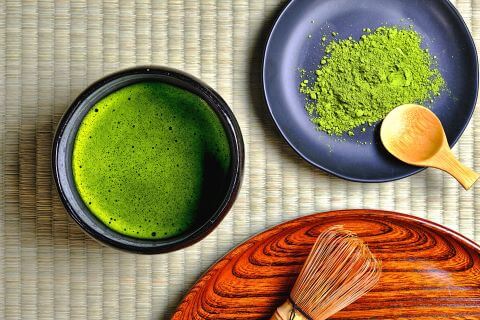 By blocking sunlight and growing in the shade during the sprout timing, the leaves for Gyokuro grow full of theanine, which is an umami component, ending up with tea leaves that have a unique sweetness. It is common to focus only on taste, but the fragrance, described as "enveloping" is also wonderful and should not be discounted. This fragrance is often described by people from outside of Japan as a having a seawater-like scent or being salty. Yame in Fukuoka, Uji in Kyoto and Okabe in Shizuoka prefecture are the three famous production spots for Gyokuro. The appropriate volume of tea when steeping for one person is 2 to 3 grams of tea leaves to 20 to 30 milliliters of hot water and the appropriate water temperature is around 50 to 60℃ in order to bring out the sweetness and umami. This will give you the ultimate cuppa that is the epitome of luxury.
Most of the Agari (cup of tea to finish the meal) served at sushi restaurants is Konacha.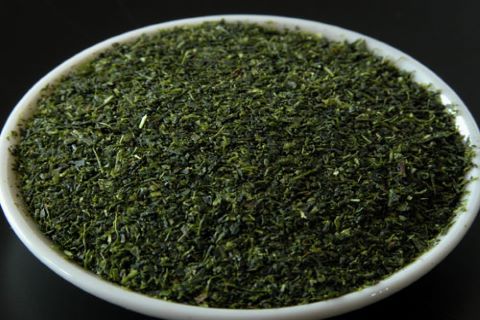 By avoiding the use of a teapot and only preparing the number of teacups needed, directly in the cup, strong tea can be made just by adding the hot water later. Conventionally, steaming is a very important step in making tea, but it isn't necessary with Konacha. Konacha raw ingredients are mainly made up of the broken tea leaves from the Gyokuro and Sencha manufacturing process.
Brewing konacha results in a dark, deep green color. As the name suggests, it has a lot of powder in it, so the tea leaves in powder form settle in the bottom of the teacup. There for it also carries the benefit of being richer in nutrients than other teas. The sense of transparency is moderate and has a bit of a more somber color. The appropriate amount of water when brewing konacha is one gram of tea leaves to 40 to 60 milliliters of hot water. Konacha is strong, so making it with water that is about 80℃ gives it a mellow flavor. Tea that is made quickly with hotter water gets a moderate bitterness typical of Japanese tea and cleanses the palate.
Also, Japanese people have treasured food since long ago. For example, the leaves of vegetables like daikon radish are sauteed and consumed rather than discarded. As a society they have spent many centuries making efforts to figure out how each part can be made delicious. Mecha is made by collecting the cut-off tips of sprouts and leaves in the process of manufacturing Gyokuro and Sencha. There are many people who think Mecha is tea made just from picking the small buds from tea trees, so don't make that mistake.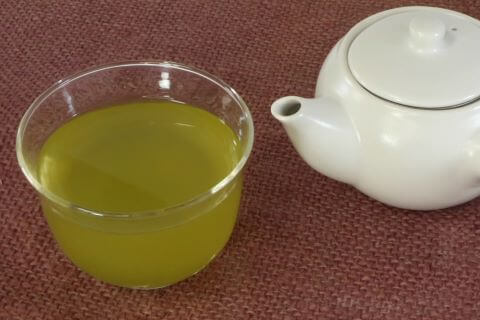 Mecha is a strong green tea that gets a strong scent when brewed. The longer the extraction time is, the stronger the tea, so if the color is too dark it changes the impression it gives and also affects the flavor. That's why it's important to pay close attention to extraction time. In general, the volume should be 2 grams for 70 milliliters of hot water–the same as Sencha. When preparing for more people, fewer tea leaves should be used. When brewing, wait patiently for the rounded Mecha leaves to open up. Around 80℃ is the appropriate temperature, but if less bitterness is preferred then it can be made with hot water at 90℃.
In summary, Konacha and Mecha, which are teas used at sushi restaurants, are made from the broken-off parts of the tea leaves carefully selected for Sencha and Gyokuro. They don't require the steaming step of the tea-making process, so they can be prepared quickly and include the appropriate amount of bitterness for cleansing the palette, making them perfect pairings for nigiri sushi.
Related contents:
GREEN TEA THAT PAIRS WITH SUSHI
Why are the teacups at sushi restaurants so big?!
Japan Tea Central Public Interest Incorporated Association
---
We hope this information will be helpful.

Revision date: September 8, 2022
---
Share this article