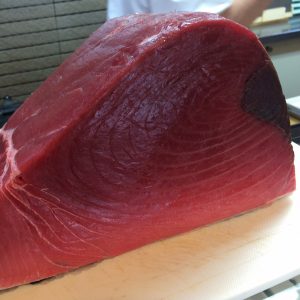 During the Edo period, tuna was not highly valued as a sushi topping and it was referred to as "Gezakana" meaning that it was inferior to normal fish. The reason was the big size of the tuna. At this time there was no ice, so tuna had to be salted. It was cut into blocks, salt was spread all over and in it, and that was it. At Uogashi (the market prior to Tsukiji) it was treated at shops that specialized in salting fish. The dark, discolored, salty chunks of flesh really were nothing but "Gezakana*".
*Gezakana -Relatively low-cost sushi ingredients, such as gizzard shad and horse mackerel. Bluefin tuna used to be also called gezakana in the Edo period, for losing its freshness easily.
Related contents: TYPES OF TUNA
Sushi-interpreting service "sushiuniversity"
---
We hope this information will be helpful.

Revision date: December 30, 2017
---
Share this article