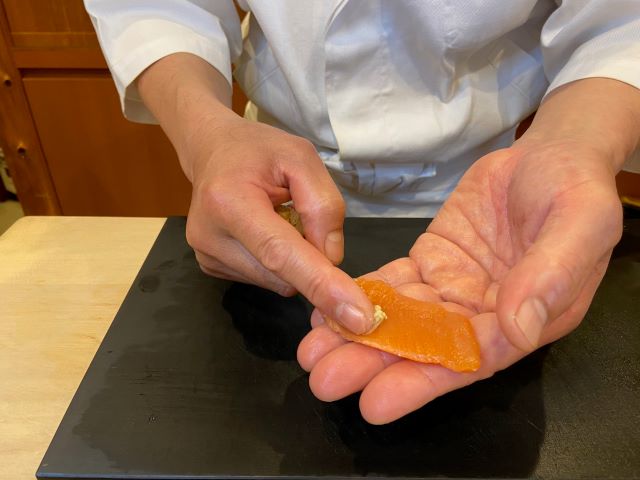 Sushi continues to spread throughout the world. Nowadays, not only sushi rolls but also Nigiri sushi can be eaten all over the world. But if you have the opportunity to come to Tokyo, we want you to go home with sushi toppings that you can only eat in Tokyo. Not seafood exported from your country, but sushi made from natural seafood caught in the seas around Japan.
First of all, what kind of sushi do you think of when you hear the word "Nigiri sushi"? Most people think of sushi with Hamachi or Salmon on top of vinegared rice.
This is correct if you only look at the appearance. However, from the essence of Nigiri sushi, it is clearly wrong. In order to make your understanding perfect, we dare to confuse you, but we would like to understand the term "Edomae sushi" as well.
What is Edomae sushi?
Nigiri sushi and Nigiri are words you may have heard before. However, "Edomae sushi" is a word you may not be familiar with, so it is important to understand exactly what it is.
It is quite simple.
Edomae sushi consists of Nigiri sushi and Nori maki. Nigiri sushi originated in Edo (now Tokyo) about 200 years ago, while Nori maki is said to have originated 50 years earlier. And Edomae sushi has remained almost in its original form to the present day. We will skip the explanation of Nori maki here, so you can just assume that "Edomae sushi" and "Nigiri sushi" refer to the same thing.
Now let's dig deeper into the story of Nigiri sushi. You have probably seen Nigiri sushi and Nori maki before. If you do not like fish and nori, you have probably eaten them.
However, many people, including the Japanese, misunderstand Nigiri sushi.
They think that Nigiri sushi is sushi with sashimi such as salmon on top of vinegared rice. Many cookbooks and other books say this as well, so it is no wonder they understand it incorrectly.
To correct here, nigiri sushi consists of prepared fillets on a bed of vinegared rice. Preparation means sprinkling salt on the seafood, soaking it in vinegar or soy sauce, boiling it, simmering it, etc. This preparation is called Edomae shigoto (Edo-style preparation) in Edomae sushi restaurants. To confirm, sashimi is unheated seafood or other ingredients cut into small pieces.
Why do they dare to prepare super-fresh seafood?
The reason is said to be that in the Edo period, there was no such thing as a refrigerator, and people had to devise ways to keep seafood from spoiling even a little. Then it seems that it is not necessary now. However, this preparation process helps to make seafood more delicious (to give an example, inosinic acid is produced, which, combined with the glutamic acid and other substances that seafood originally contains, produces a synergistic effect of umami). This is why they still use prepared seafood today.
On the other hand, salmon nigiri sushi found overseas uses sashimi. Even in Japan, in regions where fresh seafood is available, sashimi is used. This is because the priority is not the synergy of umami, but rather the texture and security of freshness. And there is no way to know that this is clearly different from Edomae sushi (Nigiri sushi) on the main road.
If you make nigiri sushi with sashimi, you don't have to be a sushi chef to do it. In fact, to put it bluntly, anyone can do it. There is an experience to make Nigiri sushi for tourists, but you understood that this is only to make Nigiri sushi in appearance, right? And to learn Edomae shigoto (Edo-style preparation), the sushi chefs need a long period of training.
Let's get to the point here.
Here are 8 sushi toppings you should try in Tokyo. We divided it into 4 so that you can see the opportunity to eat.
The first is the typical sushi toppings at Edomae sushi. It is a sushi topping that can be eaten regardless of the season (of course, there is a season), but it shows the characteristics of the sushi restaurant. The boiled Kuruma ebi, with its beautiful red color, aroma of the sea, and complex umami, is a must-try. Next is not eel but Anago (Japanese conger). The soft- simmered anago instantly falls apart in your mouth, spreading the ummai of the fish, and the restaurant's unique sauce, called Nitsume, is not to be missed.
Second, sushi toppings are only available at certain times of the year. The season is short, so even if you want to eat it, you will have to wait until the next year when the season is over. For example, don't you think you can eat Bluefin tuna all the time? The season for fresh bluefin is from around September to early January. This is the time when all parts of the fish are at their best. Shinko, the juvenile kohada, can cost as much as $2,000 per kilogram at the beginning of the season, and sushi chefs are forced to pay a premium for this fish because sushi lovers compete to be the first to eat it. The taste is not as good as kohada, but the aroma may be a cut above.
Chum salmon is not eaten raw in Japan. This is because of problems such as anisakis. Even so, you should definitely try Keiji (young Chum salmon) nigiri, which has a completely different quality of fat. It is very rare and costs more than US$1000 per fish. Then there is Hoshigarei, the king of flounder. The moderate fat and fresh aroma will fascinate you. Next, the Red sea urchin is caught in Kyushu and other parts of Japan. Sea urchin has a rather complex flavor. However, red sea urchin has a refreshing aftertaste. It is a mysterious sushi material.
The fourth is the sushi items that you should eat without grumbling. You should be happy to eat these items in season. Ezobafununi, caught in Hokkaido during the summer, is exceptional. Many people say they can't eat sea urchin, but if you eat this, you'll become a sea urchin lover. And then there is Akagai (Ark shell). Many shellfish enjoy the delicate balance of sweetness and bitterness, but Ark shell is a great ingredient to enjoy the scent of the sea.
If you want to eat Hamachi or Salmon, which you often eat as Nigiri sushi, you have to go to a conveyor belt sushi restaurant. Buri, which is farmed, is called Hamachi. Salmon is also mostly farmed, with Norway and Chile being the world's leading producers. There is no point in going all the way to Tokyo to eat them.
Finally, sushi chefs tend to avoid farmed fish. And the same goes for frozen fish. Some fish can only be used for Nigiri sushi if they are live. The chef cooks fish deliciously, but sushi chef is only trying to bring out the true flavor of the fish. In other words, there is no compromise in the selection of seafood. If the fish is too expensive, sushi chefs may not buy it. And sometimes they have to buy it even if it is too expensive. For your information.
---
We hope this information will be helpful.

Revision date: August 12, 2023
---
Share this article