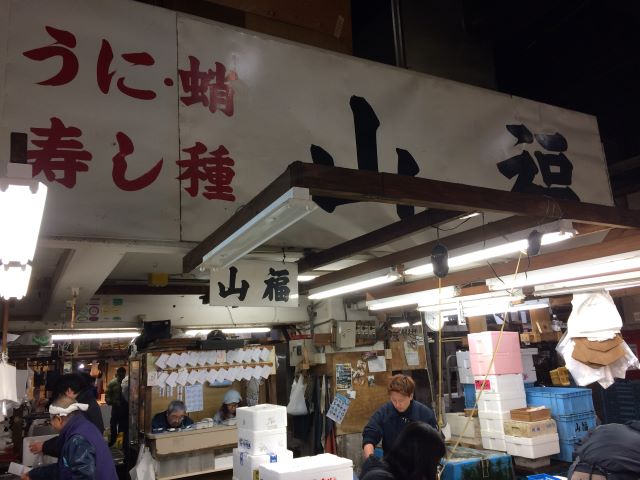 As of April 2020, the Toyosu market will have 481 seafood wholesalers, a decrease of 55 from two years ago, when the old Tsukiji market was still in operation. More specifically, it is down about 30% from 664 in 2014. As of June 2021, the demand for seafood from restaurants and other businesses has decreased significantly due to the new coronavirus, and the business conditions are worrisome. In case you are wondering, there were about 1,600 middle wholesalers in the Tsukiji market at its peak.
Nevertheless, the reason there are so many of them and they are all doing business in their own way is because they are all specialty stores. There are many types of seafood, such as tuna, fresh fish, shrimp, shellfish, and dried fish, which require specialization. Recently, seafood wholesalers have begun to offer other specialties in order to expand the scale of their business. In the old days, however, there were "Akamono-ya" (aka means "red" and mono means "fish") that dealt only with tai, "Jomonoshi" (jo means "good quality") for ryotei, "Kajiki-ya" for Kajiki (Marlin), and so on, all of which were divided into many different categories. Incidentally, "ya" is added after a product to indicate the store or occupation that handles that product.
"Komono-ya" refers to restaurants that specialize in sushi items and tempura ingredients. Sushi items are often small, such as Kohada, Kisu, Anago, Akagai, and Tako. That is why it is called Komono-ya. If there are small items, there are also big ones. Oomono-ya (Oo means Big) deals in tunas. Tuna is a big fish, and Oomono-ya is the name of the seafood wholesalers because they deal in tunas. There are about 200 tuna wholesalers in Toyosu, but only a few wholesalers sell only fresh bluefin tuna caught in the waters around Japan throughout the year. Fujita-suisan (藤田水産), which deals with Sukiyabashi Jiro, Hicho (樋長), which deals with Nishiazabu-Taku, Yamayuki (やま幸), which deals with Harutake, and Ishiji (石司), which deals with Takaichi-no-sushi are the most famous. Almost all Michelin and Gault & Millau-rated sushi restaurants purchase their raw tuna from these four wholesalers.
In summary, these words should be understood only by those who are related to the Toyosu market, and there is no need for pretentious names. In fact, these words are very clear.
Related contents:
Toyosu market Information
---
We hope this information will be helpful.

Revision date: July 21, 2023
---
Share this article