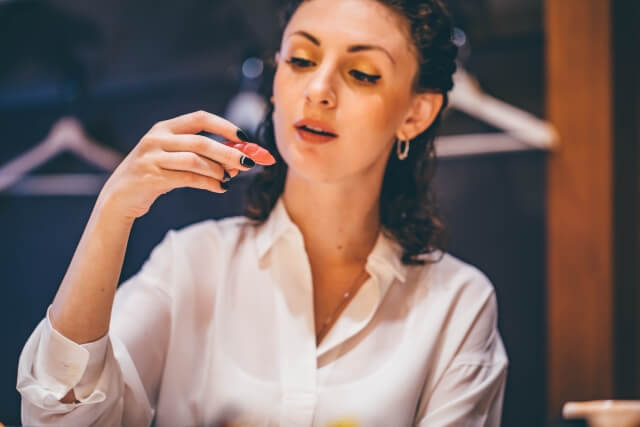 We'll start by breaking down the meaning of this word in Japanese.
The "O" of "Omakase" is a prefix generally used as an honorific expression. The meaning of "makase" refers to a judgment of things and means to entrust a task you were meant to do to someone else, allowing them to perform the task at their own discretion. In terms of sushi, while a customer normally chooses which toppings they want to eat on their own, a customer with limited sushi topping knowledge may ask the chef to prepare his own recommendations.
There are various other ways to order sushi toppings as well. First, sushi restaurants generally have a set menu called "Okimari." For example, let's consider an Okimari set that contains 8 pieces of nigiri sushi. This set of 8 pieces will contain the same toppings and maintain the same price throughout the year. In contrast, a customer may choose the number of toppings they like in whatever order they prefer, such as ordering two pieces each of four types of toppings, which is called "Okonomi." They can even order eight of the same topping. The price for "Okonomi" depends on what is ordered, the more expensive the toppings are, the higher the price will be. For "Omakase," the chef would select 8 toppings and serve them in his recommended order. However, the customer conveys their budget to the chef in advance so the sushi course can be provided within that budget. The customer can also specify toppings they prefer to avoid. In other words, you need to let the chef know in advance about your budget according to the market, and any requests (For example, I would like to eat the Splendid alfonsino (Kinmedai) in season) that you can't budge on. You don't need to leave those two things up to the chef's discretion.
Now, in actuality, there are many sushi restaurants that stray from the original definition of "Omakase."
For instance, he/she may include Tsumami as part of the course, rather than only sushi. This would be Sushi Kappo (sitting at the counter to enjoy Japanese food and served directly by the chef). A sushi restaurant was once a place where only Nigiri sushi was served. To explain in more detail, if only Nigiri sushi is served, then even if you were to eat 20 pieces of Nigiri sushi, your time in the restaurant would only be around 30 minutes (this is true the case of the establishment of the famous Jiro). Nowadays sushi restaurants are used for entertaining business clients or going on dates, so the customer may stay for around two hours. In situations like this conversation is the priority, so the actual ordering of the sushi takes the backseat. Incidentally, the practice of drinking Japanese sake at sushi restaurants is said to have begun around 1910.
Next, we'll let you in on a common misconception that you probably don't want to hear.
Apparently, people believe that ordering Omakase means that you will be served rare pieces that are not disclosed on the menu. Some are even convinced that they can get more expensive toppings than they would if they ordered with the Okonomi method. However, the restaurant just sets the price for the Omakase course and just adjusts the menu items accordingly (to suit the budget) based on current stock. The benefit to the restaurant is that it only stocks the amount of seafood necessary and will waste less. Unfortunately, rare finds are reserved for customers who know what they like. Go ahead and toss any such expectations out of your mind right now. Instead, acquiring sushi knowledge will allow you to avoid being recommended toppings that are approaching expiration.
Finally, if you just get an expensive Omakase course without understanding where the toppings came from or when they are in season, then it won't contribute to your deeper understanding of the magnificence of Nigiri sushi.
---
We hope this information will be helpful.

Revision date: April 18, 2023
---
Share this article