What is Marbled rockfish (Kasago)?
Marbled rockfish (Kasago) can be found anywhere along the coast from southern Hokkaido to the East China Sea. It lives in the shadows of reefs and blocks from the coast to depths of about 60m to 200m. A voracious carnivorous fish, it preys on crustaceans such as small shrimps, polychaetes such as ragworm, and small fish such as gobies.
Body color varies from dark brown, reddish, to blackish, and there is a great deal of variation depending on the environment in which they live. Those that inhabit deeper water are said to be redder, while those that inhabit shallower water are said to be darker. Another characteristic of this species is the irregular white patches on its back side.
Along with Mebaru and Ainame, it is a representative of rockfish (It is a fish that does not migrate far and has a small habitat). It is about 30 cm long. Its scientific name is Sebastiscus marmoratus (Cuvier, 1829).
Some species of marbled rockfish have poison lines on their pectoral fins and dorsal fins, so care should be taken when cooking them. Also, since they have many spines all over their body, when grabbing a live fish, put your thumb in their mouth and grasp their lower jaw.
It is generally considered a winter fish, but the season is spring. It is most fatty from January to April, and the black ones that inhabit the seashore are said to be tastier than the reddish marbled rockfish that inhabit offshore waters. It can be caught in all regions of the Japanese archipelago, which stretches from north to south, a light white fish that is easy to remove from the bone, so it is delicious regardless of the season. The larger ones are often made into sashimi or sushi, while the smaller ones are often eaten as boiled fish.
What is Marbled rockfish (Kasago) sushi taste like?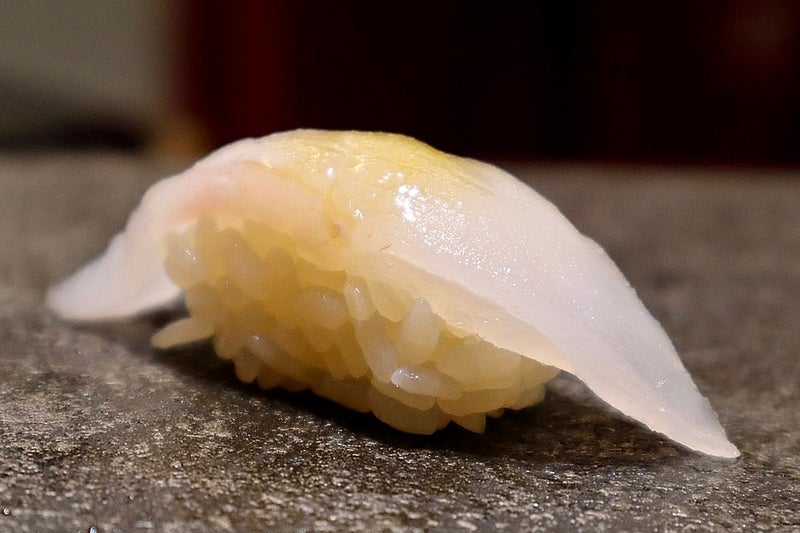 Marbled rockfish (Kasago) is treated as a high-end fish in the Toyosu market, but the supply is not consistent. In addition, its large head and low yield make it rare for restaurants to serve nigiri sushi and sashimi.
The elegant flavor of nigiri sushi and sashimi is, to put it mildly, unsatisfying. The best way to eat nigiri is to broil the skin and let the aroma come out. This will dissolve the gelatinous material under the skin, and the sweetness and umami of the fat can be felt gradually. It is also good to eat it with citrus fruits such as sudachi and salt.
---
We hope this information will be helpful.

Revision date: May 27, 2023
---
Share this article