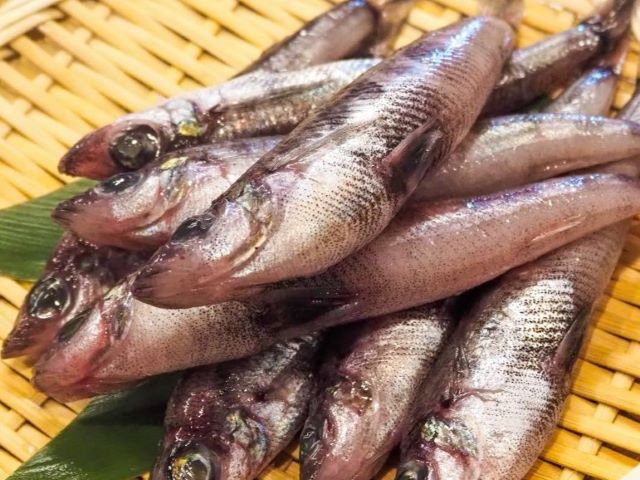 What is Bigeyed greeneye (Mehikari)?
Bigeyed greeneye (Mehikari) is distributed south of Sagami Bay to the East China Sea. They live in groups on continental shelf slopes at depths of 200 to 600 meters. Mehikari (standard Japanese name is Aome-eso) with large, striking green eyes are about 20 cm long. Its body is elongated and cylindrical, and it has an issuer around its anus, where bacteria living symbiotically inside emit light. The season is winter, and the main production areas are Fukushima, Shizuoka, Miyazaki and Aichi prefectures.
The scientific name is Chlorophthalmus albatrossis Jordan & Starks, 1904. In the market, Bigeyed greeneye (Chlorophthalmus borealis Kuronuma & Yamaguchi, 1941) and Humpback greeneye (Chlorophthalmus acutifrons Hiyama, 1940) are distributed as the same Mehikari without distinction.
What does Bigeyed greeneye (Mehikari) sushi taste like?
Bigeyed greeneye (Mehikari), despite its appearance, is a delicious fish with light white flesh and a fluffy texture. However, since it is caught by bottom trawl fishing, it is only available for sashimi within two days of being caught, and the amount of fresh fish in distribution is rather small. Therefore, it is difficult to eat nigiri sushi outside of the area where it is caught. The sushi topping is a specialty of Sushi Itou in Iwaki City.
---
We hope this information will be helpful.

Revision date: May 4, 2023
---
Share this article