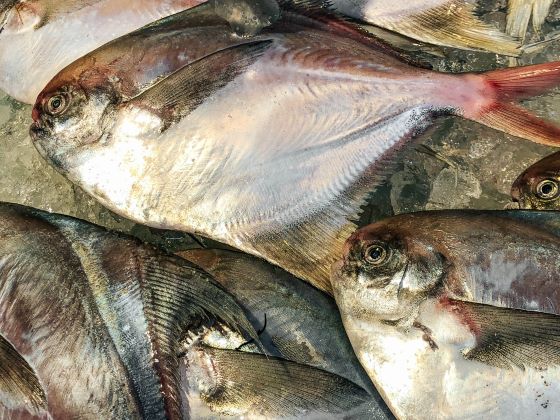 What is Silver pomfret (Managatsuo)?
Silver pomfret (Managatsuo) is distributed in a wide range of waters from Hokkaido to the southern Sea of Japan, the Pacific Ocean, the Seto Inland Sea, the Ariake Sea and other seas around Japan to the East China Sea, the South China Sea and the Indian Ocean.
They feed on crustaceans such as jellyfish and krill as well as plankton while migrating in schools to sandy muddy bottoms on continental shelves at depths of around 200 m or in the surface layer not far from the coast.
In the waters around Japan, Korean pomfret (Pampus echinogaster (Basilewsky, 1855)) and Silver pomfret (Pampus punctatissimus (Temminck and Schlegel, 1845)) are caught, but they are not well differentiated in the market.
The name "Managatsuo" might lead you to think that it is a member of the Katsuo family, but it is not at all, it is a member of the Ibdai family. Its name comes from the fact that Katsuo could not be caught in the Seto Inland Sea, so this species was called Katsuo. So, it is said that the name was derived from "mane katsuo," which imitated katsuo.
It is also said that there is no salmon in the Kansai region and no Managatsuo in the Kanto region. In the Kanto region, it is a rare fish, but in the Chubu region and west, especially in the Kansai region, it is a high-class fish that is often used in ryotei and kappo restaurants. It is also used in French and Chinese cuisine, so it is familiar to a wide variety of chefs.
What does Silver pomfret (Managatsuo) sushi taste like?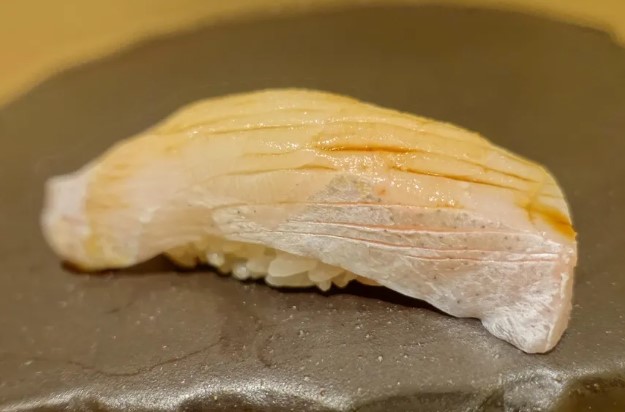 Silver pomfret (Managatsuo) has a shiny body that looks like it has been stamped with silver foil, and the sashimi is superb, but this is only in Kansai where fresh fish is available.
The flesh is shiromi, soft and smooth, with little fat and a light flavor. Not only sashimi, but saikyo-zuke (fish pickled in sweet Kyoto-style miso) is also an excellent dish. Also, it can be frozen and preserved while it is still fresh, as it does not lose its flavor when frozen compared to other fish.
Silver pomfret has 70.8 grams of water per 100 grams, more than Japanese spanish mackerel (Sawara), a typical watery fish. This is a fish that, in the past, would not be suitable for nigiri sushi at all. Besides, fresh ones are difficult to obtain in the Kanto region, so sushi topping is almost never offered at Edomae sushi restaurants. But when it is made into shiojime and the moisture is controlled, it is a first-class sushi topping.
Recently, young sushi chefs in Tokyo have discovered its deliciousness and have begun to make it. This sushi topping goes well with shari made with red vinegar, which contains a lot of amino acids. In any case, sushi topping is rare, so if you can find it, you should definitely try it.
---
We hope this information will be helpful.

Revision date: May 5, 2023
---
Share this article