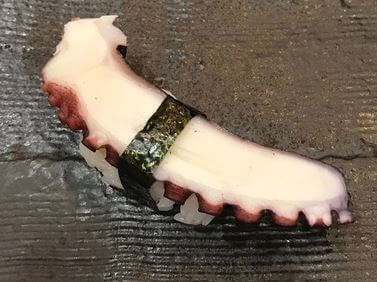 Among the many sushi toppings, Pacific bluefin tuna, and actually the Madai (Red sea bream) as well, are toppings that are difficult for an amateur to tell whether it is farmed or wild. However, there is no need to worry about that when it comes to Tako (Octopus). There are no octopus farms to be found in the world, so it is a 100% wild topping.
In Japan, domestic production isn't enough to satisfy the appetite of Japanese who like Tako, so the majority relies on imports. Imports from Africa account for 80% and the remainder is imported from China, Southeast Asia, Mexico, Spain and other places in the world.
Most of the African imports are produced by nations on the northwestern coast, with the highest number coming from Mauritania. Until 2003 the highest volume came from Morocco for many years. However, due to continued mass catches to sell to Japan, Tako numbers dropped drastically, leading to the Moroccan government panicking and outlawing fishing. For some reason, Japanese people have grown to love Tako and now consume nearly half of the Tako caught throughout the world.
There are over 200 types of Tako in the world with approximately 60 types inhabiting the seas near Japan. Among these, the Japanese mainly only eat Madako, Mizudako and Iidako. Even among these, Madako makes up at least 80% of consumption.
Most of the Tako found at conveyor belt sushi is African Madako (Madako from Africa). African produced Tako is boiled on-site before being imported frozen. The cost is 20 cents or less per topping.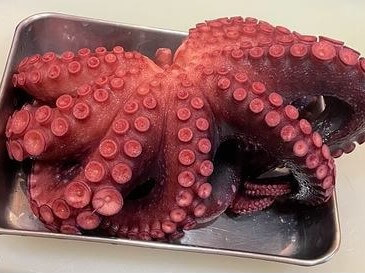 Amateurs can't tell the difference between domestic Tako or African imports. However, there is one aspect that even an amateur can use to distinguish between the two. There is one condition for this to work, and that is that at least one of the suckers is in-tact. The suckers are scraped off for most toppings, but in cases where they are sliced by the restaurant, there are often suckers remaining. If the sucker is pure white, it is almost definitely from Africa. Meanwhile, domestic Tako suckers maintain a faint red color in the suckers, even when boiled. The reason the suckers turn white seems to be an effect of the food preservatives added during processing, but this has not been confirmed.
There happens to be a substitute for Madako as well.
One of these is the Iwadako from Vietnam, which grows as large as the height of an adult human. It is imported in frozen slices that can be used as raw Tako as soon as it thaws. The cost of this topping is 20 cents or less per piece. This ends up disguised as Hokkaido Tako.
There are also domestic substitutes. Yanagidako (Chestnut octopus) is mainly caught in the Pacific Ocean, from Chiba prefecture northward. The flavor is lighter than Madako, but it is also softer than Madako, so some people actually consider it to be better than Madako. If it is boiled and made into sushi, an amateur can't distinguish between it and Madako. The legs are thin so they just need to be cut at an extreme angle in order to make the topping appear bigger. The cost of this topping is 15 cents or less per piece. It is also used as Mizudako because it is watery when eaten raw.
As you can see, there are also many substitute toppings for Madako.
---
We hope this information will be helpful.

Revision date: December 21, 2021
---
Share this article