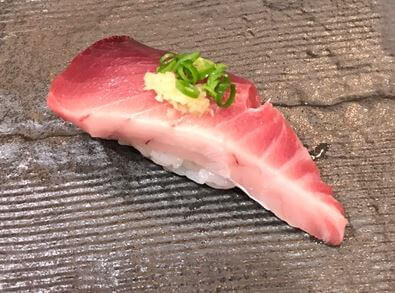 Toro is an absolute at sushi restaurants and it's only natural to aspire to such a position. That's why there are so many sushi dish names that start with "Toro". The most laissez-faire of these is Toro salmon. In this case the definition of Toro is ignored in an attempt to promote sales. Just as bad is Toro katsuo (pronounced "Toro-gatsuo" in Japanese).
Katsuo is born in the warm southern seas. When it reaches about two years old it migrates north in pursuit of Iwashi and other small fish. There are two routes taken by the Katsuo that come to the seas around Japan. One of the routes rides the Kuroshio Current (a warm current) from around the Philippines, passing by Taiwan and the Ryukyus Islands, arriving in southern Kyushu. From there the Katsuo rarely heads toward the Sea of Japan and instead the majority moves northward on the Pacific Ocean side. The Katsuo migration schedule may shift depending on the temperature of the seawater and how the schools of Iwashi and Aji (which the Katsuo feeds on) are migrating that year. The first group appears around Ishigaki Island about January, then in the seas off the shores of Kyushu and Shikoku between February and March. It then moves to the seas off of the Izu and Boso peninsulas between April and June. It reaches the open seas off the southern coast of Sanriku and Hokkaido between July and September.
Another route follows the Ogasawara ocean current from below the equator in the seas off the shore of Papua New Guinea and the seas around Micronesia to the Ogasawara Islands, along the Seven Islands of Izu and approaching the open seas off the Boso Peninsula. The route then goes northward to join with the routes mentioned above.
It's the Modori-gatsuo that begins reverse migration toward the south at the beginning of autumn when the water temperatures start to drop. Katsuo has a strong appetite before returning south in preparation for the long trip. Unlike the light-flavored Hatsu-gatsuo, the Modori-gatsuo has plenty of fat and its body fattens up quite a bit. The main fishing locations for Modori-gatsuo are in the northern Pacific, such as the waters off the shore of Sanriku. This is the season when it is truly worthy of the name Toro katsuo when served raw, and nothing else should be called by the same name.
---
We hope this information will be helpful.

Revision date: December 1, 2021
---
Share this article