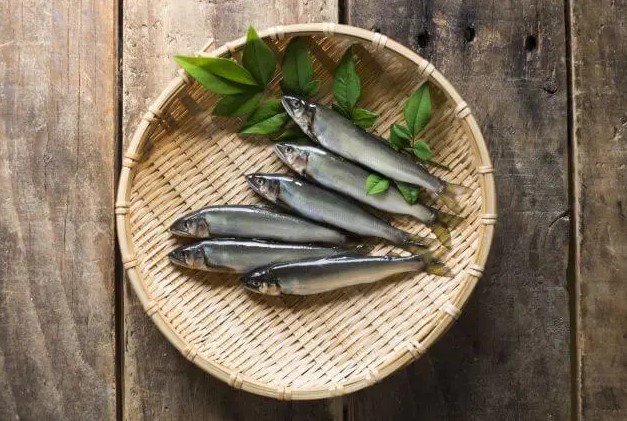 What is Sweetfish (Ayu)?
Sweetfish (Ayu) is distributed throughout East Asia from southern Hokkaido to Kyushu, the Korean Peninsula, and northern Vietnam. The species found on Amami-Oshima Island and Okinawa Island is called Ryukyu-ayu and is a differentiated subspecies. Ayu is characterized by the oval yellow spots on the upper pectoral fins and a dozen rows of comb-like teeth aligned on the lip.
It is born near the estuary in the fall, goes down to the sea to overwinter, returns upstream the following spring to become an adult, and then migrates back downstream to spawn and live out their lives. In some lakes, such as Lake Biwa, a land-locked type is found that completes its life in the lake instead of the ocean. These groups are called Ko-ayu. Aquaculture is also popular, with Gifu, Hiroshima, Kochi, and Kyushu being well-known production areas. The scientific name is Plecoglossus altivelis altivelis (Temminck and Schlegel, 1846).
The traditional names used to describe the fish are "Kou-gyo (fragrant fish)" (because of its unique scent), "Nen-gyo (annual fish)" (because it usually lives only one year), "Ginko-gyo (silver-lipped fish)" (because its mouth glows silver when it swims), Keiun (means sardine in a mountain stream) and "Sairin-gyo (scaled fish)" (because of its small scales).
What does Sweetfish (Ayu) sushi taste like?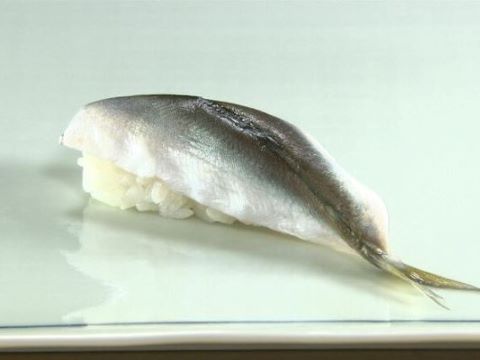 Adult ayu feeds on algae on the surface of stones in the river, giving them a distinctive aroma like that of watermelon or cucumber, which can already be smelled even by young fish in the upstream season. The season is from July to August when ayu put on fat, but the aroma is stronger when young ayu are caught a little earlier.
When preparing nigiri sushi, small wild ayu is used, the head and entrails are removed, and the belly is cut open and the inside bone is removed. In traditional Ayu sugata sushi (whole fish sushi), the fish is thoroughly salted to drain off the water and make it strong sujime. Then let it rest in the refrigerator for half a day. If the fish is small ayu, the skin can be left on, but if the size is large or the sushi is to be made immediately after soaking in vinegar, the skin is often felt hard, so it is removed. Ayu belongs to Hikaramono in the sushi category, perhaps because of its shiny appearance. There are very few sushi chefs who make Ayu's nigiri sushi, so Sushi Sanshi (鮨三心), Sushi Ikko (鮨一幸), Kanda Sasazushi (神田笹鮨), etc. have it on their signature menu. It was the most popular autumnal sushi item during the Edo period.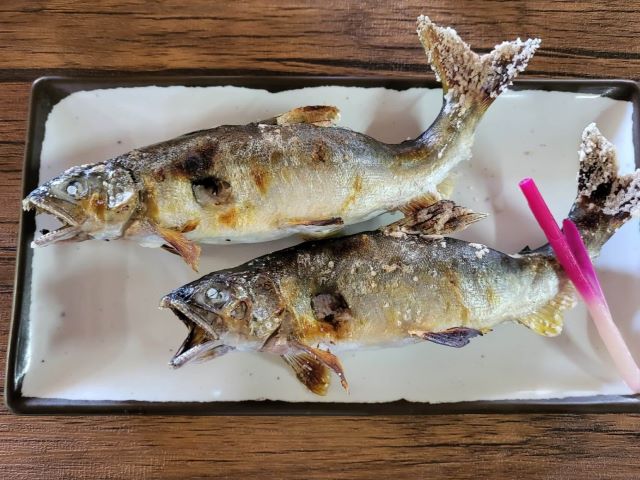 To enjoy the elegant appearance and aroma of ayu, grilled with salt is the best way to go. The fish is put on a skewer in such a way that their body forms a wave, making them look as if they are swimming (it is called uneri gushi). It is traditionally eaten with water pepper vinegar, which goes well with it.
---
We hope this information will be helpful.

Revision date: July 4, 2023
---
Share this article