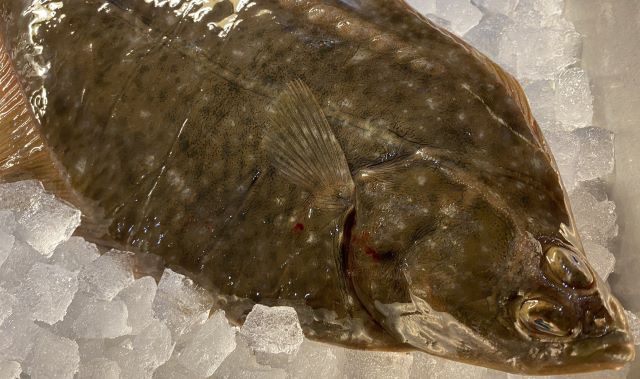 What is Stone flounder (Ishigarei)?
Stone flounder (Ishigarei) is distributed along the coasts of Japan, the Kuril Islands, Sakhalin, the Korean Peninsula, and Taiwan. It lives in sandy mud at depths of 30 to 100 meters, and its total length reaches 50 cm. The body surface is smooth with no scales, but there are large longitudinal bony plates on the dorsal surface of the body on the eye side and other small bony plates. In Japan, depending upon the region it will be called other names, such as Ishimochi, Ishimochigarei, or Shirogarei.
It was caught in large quantities by bottom trawling fishing and was synonymous with cheap flounder. However, since the Edo period (1603-1867), it has been treated as a luxury fish in Tokyo. This is because white fish are scarce in summer, and even now, as summer approaches, the price rises along with Japanese sea bass (Suzuki) in the market. However, there was a time when it became a phantom fish that could not be caught at all due to the reclamation and development of Tokyo Bay that began after World War II.
What does Stone flounder (Ishigarei) sushi taste like?
Stone flounder is made by quickly removing the bony plates during the preparation process to avoid the characteristic muddy smell of flounder. It has clear, elegant flesh with a moderate aroma of the sea and a rich flavor with just the right amount of crunchiness. It caught in Tokyo Bay is highly prized and is served as sashimi and sushi, but it is also delicious simmered, or grilled.
As a rule, only live fish can be used for nigiri sushi. Nojime and Ikejime are also not highly valued because the umami component of flounder rapidly decreases after death. Stone flounder, which can be found in abundance in supermarkets at reasonable prices, cannot be used for nigiri sushi or sashimi. It also has a distinctive odor when it is no longer fresh, so it is best to remove it quickly and remove the skin. Skinless fillets can be enjoyed even after maturing for a while.
---
We hope this information will be helpful.

Revision date: March 17, 2023
---
Share this article