One theory is that this practice is leftover from back when pieces of sushi were made larger and then cut in half. But, there are also some toppings that are better to eat in pairs.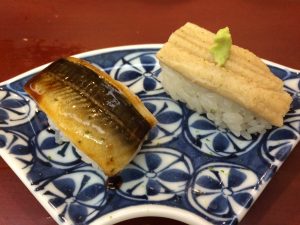 For example, conger eel tastes completely different when one piece is eaten with salt and the other seasoned with sweet sauce. Serving the piece with the head skin-up and the piece with the tail belly-up also offers different textures. Since the back and belly of bonito have different fat content, it can be better to order two pieces at a time in order to fully experience each of the individual qualities of the fish.
Sushi-interpreting service "sushiuniversity"
---
We hope this information will be helpful.

Revision date: February 26, 2018