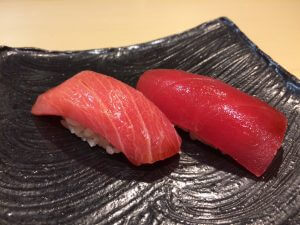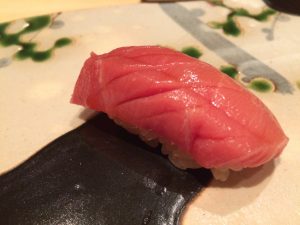 A purchase of raw tuna costs at least JPY 30,000 per kilogram. Furthermore, good tuna is judged not only by taste, but appearance is also highly regarded.
The surface is gradually oxidized by letting it sleep (mature) and the sushi chef makes sure that parts are cut of as they change color, when the timing is perfect for both the taste and appearance. In other words, skin is taken from the freshly purchased tuna, the meat of the fish darkened by blood (the blackened area that can't be used as sushi toppings) is removed, the parts that have changed color are shaved off and then only the remaining, best parts used as toppings are left.
This is why the price is high.
Related contents: TYPES OF TUNA
---
We hope this information will be helpful.

Revision date: February 5, 2018
---
Share this article