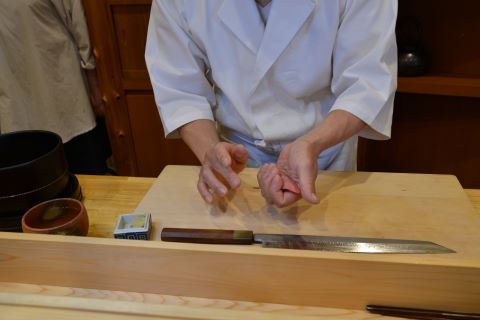 The names you'll hear at sushi restaurants include Itasan, Taisho, Oyakata, Goshujin and Master, etc.
Sushi restaurants generally aren't strict about this sort of thing, so at an easy-going place probably any of these are acceptable. However, the other customers would probably feel more awkward about what you call the sushi chef than the chef himself. This will be a short lecture about the correct way to address a sushi chef.
First of all, "Goshujin (ご主人)" is used for all shops, is correct Japanese and sounds perfectly normal in both Kansai and Kanto. This title means "shop owner." However, this is not usually used at sushi restaurants. "Master (マスター )" means the same thing as "Goshujin," but is mainly reserved for places like bars and cafes and is not used at sushi restaurants.
Another common title is "Itamae (板前)" or other versions of it like "Itasan (板さん)," but these all mean "cook" for Japanese cuisine. Sushi is a type of Japanese cuisine, so calling a sushi chef "Itasan" is not a mistake. However, even amidst Japanese cuisine, sushi requires unique techniques, which sets sushi chefs apart from others.
Itamae learn various Japanese cooking techniques while apprenticing, but actually, they rarely make sushi. Therefore, even if a Japanese cuisine cook were to jump into the sushi industry, they would basically have to start over completely. Furthermore, sushi chefs do not just learn the technique of making individual pieces of sushi, they must also acquire the skill of communicating with customers. My personal opinion is that "Itasan" is a way to address cooks who are employed.
Next, there are customers who say things like, "Taisho (大将), make it without wasabi." Taisho is a term for shop owners, mainly used in Kansai. However, Taisho is not an appropriate way to address an Edomae sushi chef.
So, what should you call a sushi chef then?!
The correct term is Oyakata (親方). Oyakata refers to a full-fledged, independent chef. We believe sumo stable owners (a position that not just anyone can achieve and requires prior results as a sumo wrestler) are also called Oyakata. This is just for your reference.
---
We hope this information will be helpful.

Revision date: May 23, 2022
---
Share this article