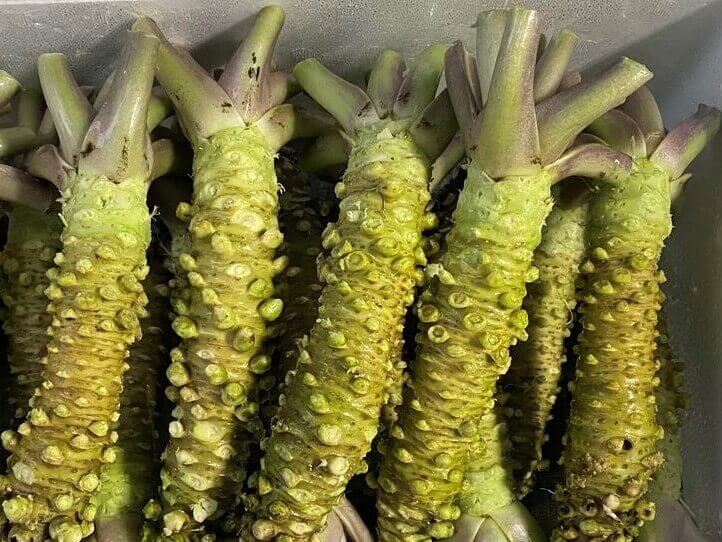 So, what is the true meaning of the shocking phrase, "Once you try tuna or flounder with this wasabi, you'll never be able to eat it without wasabi again"?
Wasabi is assessed by five points: its coloring, fragrance, stickiness, spiciness and sweetness. So does that mean this wasabi gets the highest marks for all these categories? In other words, when wasabi is grated, it's a bright green color. The fragrance is fresh. It has a strong stickiness. The spiciness has a punch. After some time, it has a delicate sweetness.
The glorious thing about wasabi is that the vivid spiciness that goes through to the tip of your nose never lingers on your tongue or in your mouth. This lack of aftertaste is the biggest feature of wasabi's delicious taste. The tastes of sashimi and sushi are subtle and delicate. Each cut of fish and each piece of sushi has its own unique and enjoyable flavor. If the wasabi were to linger on your tongue or in your mouth, it would get in the way of the next, new taste.
Furthermore, the potency of this spiciness is not what makes wasabi taste good. Good wasabi is spicy, but it also has a premium sweetness and refreshing fragrance at the same time. This is the true delicious taste of wasabi and it is a specific characteristic. Therefore, it is a superb spice for making good fish even more delicious.
Wasabi is native to the Japanese Islands and Sakhalin, Russia, is a perennial plant that belongs to the Brassicaceae family and is bred both by dividing roots for replanting and from seeds. The potato-shaped part that is normally grated and consumed, is part of the wasabi's stem and called rhizome, just as potatoes have subterranean stems. Wasabi is broadly divided into red stem, which has a high anthocyanin content in the stems and blue stem, which has a low anthocyanin content. Mazuma (red stem), daruma (blue stem) and Shimane No. 3 (blue stem) are the three major types and it is known that most varieties that are currently cultivated were improved breeding from these. During the Edo period, daruma wasabi that was cultivated in Shizuoka was the most common, but then mazuma was introduced and became widespread, perhaps from degradation due to about 40 years of cultivation. Currently, mazuma seed cultivation only makes up about 30% of the total wasabi, even in Shizuoka, because the cultivation period of mazuma is longer than the seedling type and suitable places for planting have decreased, among other reasons.
The external appearance of mazuma is a dark green color and since there is purple on the base of the leaf, they are easy to distinguish by appearance alone. Since mazuma seeds mostly don't fruit, the seedlings are cultivated by dividing the roots. It is difficult to ensure high quantity by dividing roots. Furthermore, it takes time to grow, so there is inevitably a rarity value.
The protrusions that occur with the growth of the surface are small and grow very close together, arranged in a spiral shape. This is the best wasabi of which the spiciness includes sufficient sweetness and that has a refreshing fragrance. On the market, it goes for US $50 to $200 per kilogram. Of course, it depends on the size, but one plant goes for about US $20. Wasabi is mainly produced on the Izu peninsula right now, but Yugashima, Amagi and Gotemba are known for mazuma. However, mazuma is actually native to Wakayama prefecture. It started in the Kawamata area of Inami Town in Wakayama, formerly known as Mazuma Village.
Related contents:
What is Yamawasabi?
---
We hope this information will be helpful.

Revision date: March 10, 2021
---
Share this article