Caviar refers to salted sturgeon ovaries but in many European countries, caviar is also used as a generic term for fish roe. In its home of Russia, roe is generally called "ikura" and caviar specifically refers to black fish roe.
Caviar is one of the world's three major delicacies and can command different prices depending on the type of sturgeon (egg size). It is ranked in the order: Beluga, Oscietra and Sevruga, all of which come from the Caspian Sea. Beluga from the Caspian Sea is designated as an endangered species and international trade is prohibited by the Washington Convention. Its population is very small and it does not lay eggs until 20 years into its lifespan, so the resource has yet to recover. This has brought the market price of Beluga up to around USD $400 for just 50 g.
What is the substitute for caviar?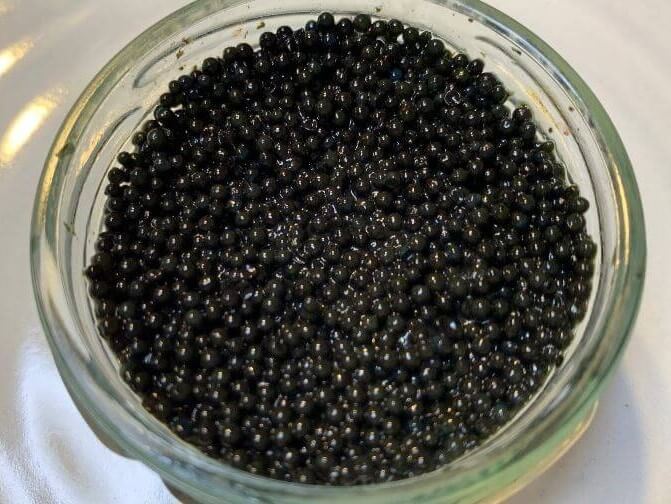 Lumpfish roe is sold as a substitute for caviar. The size of each egg is about 2 mm in diameter and it is colored with squid ink. This gives it a taste and appearance similar to caviar. The market price is an astonishing USD $5 per 50 g.
The main ingredients of Lumpfish caviar are as follows:
 Lumpfish roe
 Salt
 Sugar
 Thickening agent
 Sodium benzoate
 Coloring
What is artificial caviar?
Artificial caviar is significantly cheaper than genuine caviar. It's low in fats, lower in calories and healthier than the real thing. It is already a big hit in the U.S. The size of the eggs is a little larger than authentic caviar and the skin is thicker but most people would tell you the texture and taste is much the same. There has also been a decrease in sturgeon, and there is no sign that its price will fall in the future. The challenge is meeting the global demand through a combination of farmed caviar which has become a more stable supply in recent years, with the ever-dwindling wild caviar. The market price is reasonable at around USD $10 for 50 g.
There is a way to tell the difference between real caviar and fake caviar.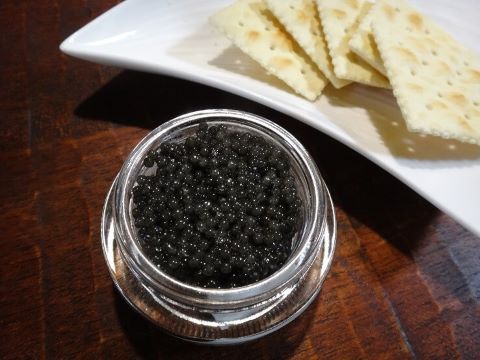 First, place the caviar on a cracker. Fake caviar (made of Lumpfish roe) has added color, and this color will bleed onto the cracker within about 30 minutes. However, the color will not transfer to the cracker from real caviar.
The main raw ingredients of artificial caviar are as follows:
 Sea urchin extract
 Oyster extract
 Gelatin
 Dextrin
 D-sorbitol
 Trehalose
 Gelling agent
 Seasoning
 Coloring
Finally, seafood with a high price, unfortunately, results in substitutes, counterfeits, and artificial products. Masquerading a fake as the real thing can result in a large profit. I will tell you that it is difficult to trick a middleman who serves professional sushi chefs or restaurants. Therefore anyone in Japan who uses seafood like this, does it knowingly, which makes the crime even worse.
Related contents:
The secret story of how Ikura became a sushi topping!
---
We hope this information will be helpful.

Revision date: February 22, 2022
---
Share this article