During the Edo period, samurai would change their names at Genpuku (coming-of-age ceremony and career stages. Fish that are called by names as they grow older/larger are called "shusseuo (出世魚)", are considered lucky and are used in cooking to celebrate milestones in life.
Shusseuo doesn't just change in name, they also change in taste. The bigger the body, the more fat. However, young fish also have their own delicious, refreshing taste unique to their age. For example, using the young fish for deep-frying and fatty fish as sashimi is an interesting way to put it.
Shusseuo is not the only fish called by different names as they grow. According to the "Study of Japanese Fish Names", there are 82 types of fish that are called by different names as they grow. Kuromaguro and kanpachi are popular examples. Kuromaguro changes from Komeji to Meji to Maguro and then to Oomaguro. Kanpachi changes from Mojako to Shiwoko to Akahana and then to Kanpachi. Even konoshiro, sawara, unagi, shake, koi, etc. are not shusseuo. Generally, it's not those fish that are called by different names according to their growth stage that is called shusseuo. Fish that taste better as they grow, that changes little over time, and have been valued since eras when preservation and transport were not well-developed, are called shusseuo.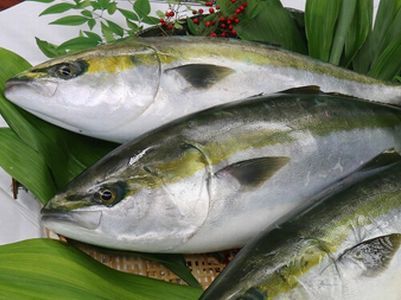 A good representative fish of shusseuo is the yellowtail. Its name changes as it grows and there are various forms of their names depending on the region. In the Kanto region, it changes from Wakashi (15-20cm) to Inada (30-40cm) to Warasa (60cm) and then to Buri (80cm or greater). It is said to be most delicious at 40 cm or longer and even if the body is plump, inada often has little fat.
Even if the name is the same, depending on the region, it may be referring to a different size. For example, inada is a fish up to 40 cm in Kanto but in Tohoku and Tokai, it refers to small fish of 15-20 cm. Further, although it is not related to its growth, those caught in Tohoku during summer are called "ao". In Toyama, they are called "gan" and "gando".
Finally, the changing names of fish demonstrate the breadth of culture. We should cherish this local diversity present in the names of our fish that capture the abundant food culture and importance of the seasons.
---
We hope this information will be helpful.

Revision date: January 5, 2021
---
Share this article