Inarizushi is made with only two ingredients: fried bean curd and vinegar rice (or vinegar rice mixed with boiled down carrots, shiitake or similar ingredients). , and it is that simplicity that allows the chef to devote their ingenuity to the dish, creating a unique flavor. It is said to have first appeared at the end of the Edo period, but the origin is uncertain. The shape of Inarizushi differs from that resembling a straw bag in the Kanto and Eastern Japan, where rich sweet and salty flavoring is used, and the triangular shape of Western Japan.
Type of Inarizushi
When categorized based on shape, the types of Inarizushi are bale type, triangle type, open type and roll type. They can also be categorized by the type of rice stuffed into the fried tofu (abura-age): either white vinegared rice or vinegared rice mixed with other ingredients. The four elements that make up the flavor are sweetness, soy sauce, soup stock and acidity, and the balance is very important. In the east of Japan the flavor tends to be a stronger sweet and salty while in the west the soup stock is more apparent.
Here we will explain the characteristics of Inarizushi using categories based on appearance.
Bale Type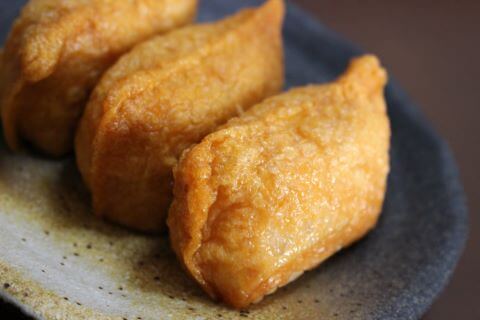 Inarizushi seems to be a version of Sugatazushi. Perhaps the Sumeshi is stuffed into the fried tofu instead of into a fish (a hypothesis). When looking at literature from the Edo period, there is Inarizushi in the form of a long rod that was cut up and sold. Someone probably thought that if they were going to cut it up into bite-size pieces anyway, they may as well make it in easy-to-eat sizes in the first place (an inference). There are some shops that still sell Inarizushi in long rod form, but the difference is probably in how the fried tofu is cut. You can find this from Sekigahara, Gifu and further eastward.
Triangle Type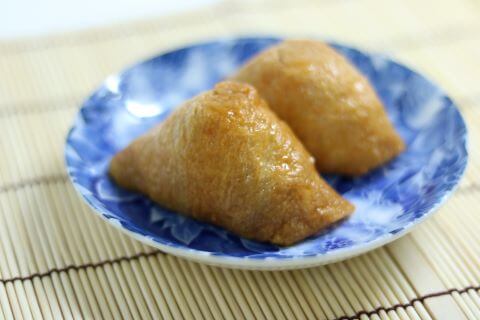 Why is the appearance triangular? There are many theories, but the most plausible is that these are meant to be shaped like a fox ear. Inarizushi originated as an offering to the Inari god at festivals. The Inari god is the deity of agriculture and patrons pray to this god at Inari shrines. The head Inari shrine is Fushimi Inari Taisha in Kyoto. Legend has it that fried tofu is a favorite of foxes, who are said to be messengers of the Inari god, so it was made into the shape of fox ears. Another theory is that it is the shape of Mt. Inari where Fushimi Inari Taisha is located. Apparently this is because the triangle type originated at Fushimi Inari Taisha. However, Inarizushi shops in Kansai use lucky bale shapes in order to pray for prosperity in business. On the other hand, Inarizushi made at home or in soba restaurants are usually triangular. This type is found from Sekigahara, Gifu and westward.
Open Type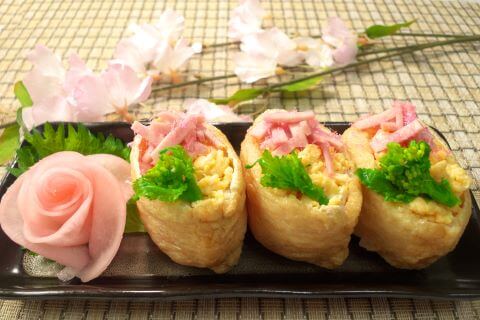 The open type is a revolutionary style. How it came about is not clear, but perhaps someone just stuffed it too full of ingredients. Since the ingredients are visible, it looks even more delicious than normal Inarizushi. It's really beautiful when many are lined up. You can imagine how this served as inspiration to those who went on to add a variety of ingredients. It's also easy to make since all you have to do is fill it with ingredients. this has already become a staple sushi in France, South Korea, Australia, Singapore and other countries.
Roll Type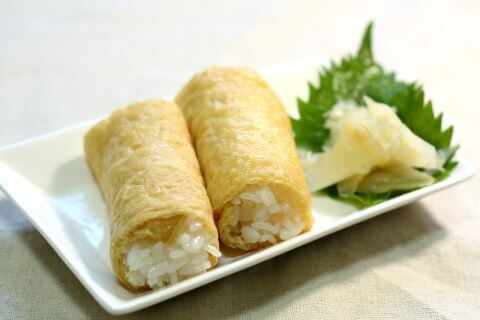 Almost all roll-type Inarizushi in Japan is made with a dried fried tofu from Kumamoto called Nankanage. Unlike normal fried tofu, it looks like paper in the shape of a sponge and does not form a bag. That's why the only way to use it was by wrapping it around the rice. Also, this way of spreading out one sheet of boiled fried tofu and then wrapping the rice inside may have been created as a way to avoid tearing the fried tofu when stuffing with vinegared rice
Summary
Ignoring whether or not it is true that carnivorous foxes really love fried tofu, apparently the foxes that serve as messengers to the Inari god do love it. As foxes were thought to be delivering prayers to the Inari god, their favorite fried tofu was given as an offering to stay on the fox's good side. After that, they started the practice of stuffing rice that was grown with the blessing of the Inari god. As you can see, Inarizushi is the combination of two ingredients involving the Inari god.
Related contents:
Tips for making great Inarizushi from a sushi chef
---
We hope this information will be helpful.

Revision date: May 9, 2022
---
Share this article