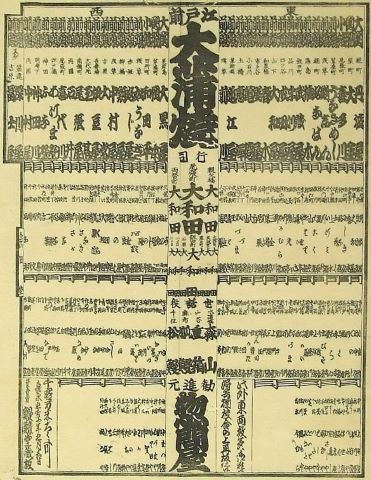 Tuna, which is now a representative of high-class fish, was one of the lower ranks of Gezakana (ge means 'cheap', and zakana means 'fish') in the Edo period. According to an encyclopedia of the Edo period, "maguro is a very vulgar fish, and even common people who live in houses facing the main street would be ashamed to eat it. Maguro was so low-ranked fish that was said to be the food of poor people living in houses on back streets. However, due to the effects of global warming and overfishing, the number of fish called Gezakana has been decreasing. Therefore, meat is definitely cheaper than fish in supermarkets.
Next, please take a look at the ratings of fish in the Edo period as listed in Chiba University's study of classical cuisine.
The following fish are listed as Jyozakana (Top-grade fish)
Tai、Ankou、Amadai、Sayori、Shirauo、Suzuki、Sawara、Ishigarei、Ayu、Tara、Akagai、Kaki、Karei、Kisu、Kurumaebi
The following fish are listed as Chuzakana (Middle Fish)
Tako、Kochi、Hirame、Aji、Ara、Ika、Katsuo、Houbuo、Ishimochi、Ungai、Ainame、Asari、Hamaguri、Bora
The following fish are listed as Gezakana (Lower fish)
Buri、Kurodai、Saba、Iwashi、Fugu、Kohada、Mutsu、Okoze、Shimaaji、Maguro、Nishin、Same
Again, maguro is classified as Gezakana, along with today's high-end fish such as Kurodai and Fugu, and it seems that most Jyozakana are white fish, and the oily fish, so much appreciated today, was not favored by the people of Edo. In addition, maguro was also called shibi (pronounced "shi," which is a reference to death), and some believe that it was not popular because it was associated with death.
When large schools of maguro appeared in the seas around Edo (Tokyo) between 1340 and 1844 and were caught in large numbers, they were sold for free because they were not popular.
As a side note, a sushi restaurant made a fortune by purchasing maguro red meat at a low price, marinating it in soy sauce, and selling. This was the beginning of what is now called Zuke.
n this way, red meat was still sometimes preferred, but Toro, which tends to spoil easily, was not looked upon and was often thrown away. Even if it was eaten, it was only in Negima nabe (hot pot) and was rarely eaten raw.
It was not only in the Edo period that toro was not favored.
It was not until the development of refrigeration and freezing technology in the 1945s that otoro and chutoro became as much appreciated as they are today. It is only recently that Otoro and Chutoro have become the kings of fish. Fish grading, in fact, has a great deal to do with safety. Saba, which suddenly loses its freshness, and Iwashi, which is tender and easily loses its freshness, are both Gezakana. In other words, fish that lose their freshness easily were likely to be classified as gezakana.
Another reason was the taste of the Edo people, who preferred light fish such as Amadai, Sayori, and Suzuki to oily fish such as Saba and Buri. It is understandable that Maguro Toro, which is both fatty and perishable, is frowned upon.
---
We hope this information will be helpful.

Revision date: July 24, 2023
---
Share this article