The Michelin starred sushi chef taught us this recipe for the sushi rice of chirashi sushi, serving about 2 to 3 adults.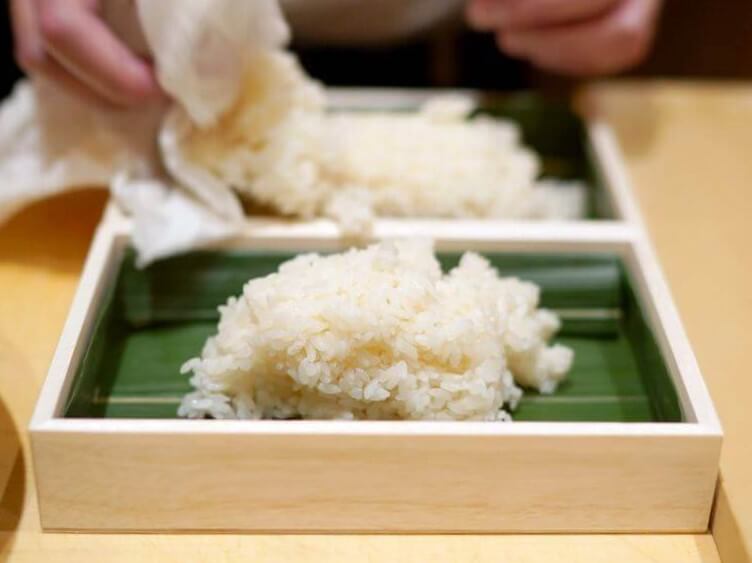 He gave out his hidden recipe, something that only a sushi chef can think of, and something you don't see in those classic recipes. First, it might be hard to get at places like a supermarket, but he was telling us that using cane sugar (三温糖) and salt from burning seaweed (藻塩) would give great depth of flavor to sushi rice. If you can't find them, regular sugar and salt for cooking will do. In addition to that, sushi vinegar on the market already contains sugar, salt and more, so make sure to get komezu (rice vinegar).
And if you would like to make it similar to the taste of a sushi restaurant, obtain Japanese short-grain rice, Koshihikari (コシヒカリ). Along with that, water for cooking rice should be Mineral water as well as soft water. Concentrations of dissolved calcium and magnesium in 1000 ml of water are indicated in numbers called "hardness". By WHO standards, hardness below 120 mg/l is considered soft water. If you can't find it, try to choose Mineral water with the number as small as possible.
(Ingredients)
Rice:360cc
Komezu (rice vinegar):3 tbsp and 2 tsp
Cane sugar:1 tbsp
Salt:1 tsp and 1/2 tsp of which 1/2 tsp should be Salt from burning seaweed (Moshio)
Mineral water:340~350cc
The following are tips about cooking sushi rice.
Place the rice into a bowl and pour Mineral water, and then mix it lightly. Leave it for about 10 minutes and let the rice soak in the water.
Wash the rice like swirling it gently, trying not to damage the surface of each grain of rice.
After the rice is rinsed twice, transfer it into a strainer once and drain until it becomes whitish (about 30 minutes), and then it will be ready to cook.
Cook rice with the amount of water 2 mm under the mark indicated by the rice cooker.
Once the rice is cooked, let it steam for 10 minutes.
While the rice is cooking, prepare awasezu by combining komezu, cane sugar, salt, and salt from burning seaweed and mixing thoroughly.
Spread the rice on handai (飯台) or a tray, and distribute awasezu over shamoji (rice paddle) evenly over the rice.
Use a slashing motion with shamoji and spread out sushi rice all over the tray.
Cooldown the surface of sushi rice by fanning, as a guide, to the temperature you could feel the warmth slightly when you put your hands above the rice.
To cool down the bottom of the sushi rice as well, flip the sushi rice with shamoji.
Once the sushi rice is done, cover it with a damp kitchen towel. Don't use plastic wrap. If you don't have a damp kitchen towel, use a damp paper towel.
When you make chirashi sushi, don't push the sushi rice too hard to squeeze in a container. Try to put it in softly as if letting the air in.
At last, decorate toppings as you like. Use soy sauce on seafood to your liking.
We consider these extra efforts make a big effect on your result. Unique to the sushi chef, please try and follow the recipe as much as you can.
Related contents:
WHAT RICE TO USE FOR SUSHI?
---
We hope this information will be helpful.

Revision date: October 29, 2021
---
Share this article