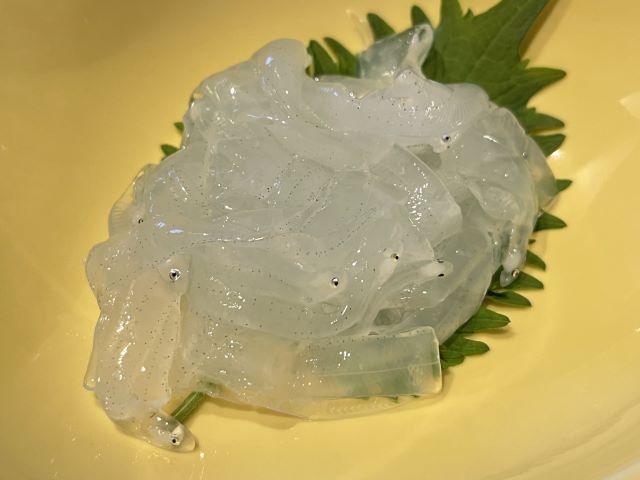 What is Noresore?
Noresore is believed to be a juvenile of the Anago, but the species' name is not really known. The larvae of Unagi (Japanese eel), Anago (Japanese conger), and Hamo (Daggertooth pike conger) are called Leptocephalus and are elongated and flattened, leaf-like in shape. They are transparent to the muscles and spine and are 5~6 cm in size. This is called Noresore in Kochi Prefecture. It arrives at the market from February to May, but the quantity is small and the freshness fades quickly, so the price is always high.
Many people look forward to it as a delicacy in early spring. Indeed, the smooth slurping and subtle sweetness are something special that cannot be tasted anywhere else. When eaten raw, it goes well with ginger soy sauce, wasabi soy sauce, or ponzu (Japanese citrus juice).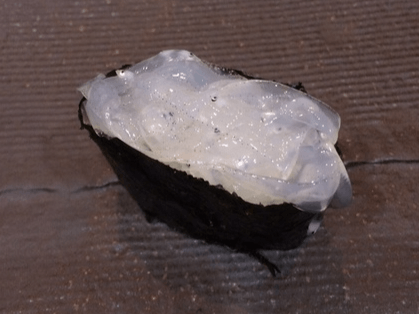 What does Noresore sushi taste like?
When made into sushi, it is served with green onions and ginger as condiments, and in a Gunkan maki. The atmosphere is similar to that of Shirauo (Japanese icefish), but it is much more slippery to the palate, much like the high-end Gelidium jelly. In Tokyo sushi restaurants, it is sometimes served as Tsumami, but almost never as Nigiri sushi.
---
We hope this information will be helpful.

Revision date: March 11, 2023
---
Share this article