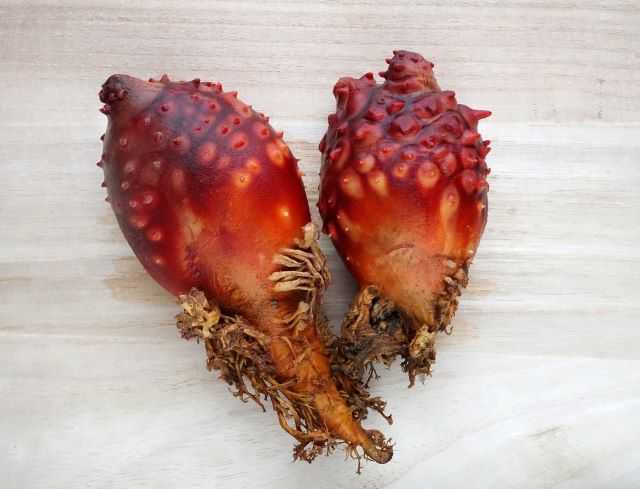 What is Sea squirt (Hoya)?
Sea squirt (Its Japanese name is Hoya) is thought to be a specialty of the Tohoku region, but it is distributed from Hokkaido to Honshu, Shikoku, and Kyushu, as well as from the Korean Peninsula to the Shandong Peninsula of mainland China.
It has red, hard skin and protruding warts, the tops of which have entry and exit holes, and lives attached to rocks and other objects on the seafloor.
The sea squirt is nicknamed the pineapple of the sea because of its resemblance to a pineapple, which is not clear whether it is an animal or a plant. It is a close relative of vertebrates, although it is not at all imaginable. Its size is about 20 cm.
The two main species of Hoya (海鞘、老海鼠) consumed in Japan are Ma-hoya (Halocynthia roretzi (Drasche, 1884)) and Aka-hoya (Halocynthia aurantium aurantium (Pallas, 1787)). Miyagi Prefecture accounts for about 80% of the nation's production, while Aka-hoya is mostly produced in Hokkaido.
What does Sea squirt (Hoya) nigiri sushi taste like?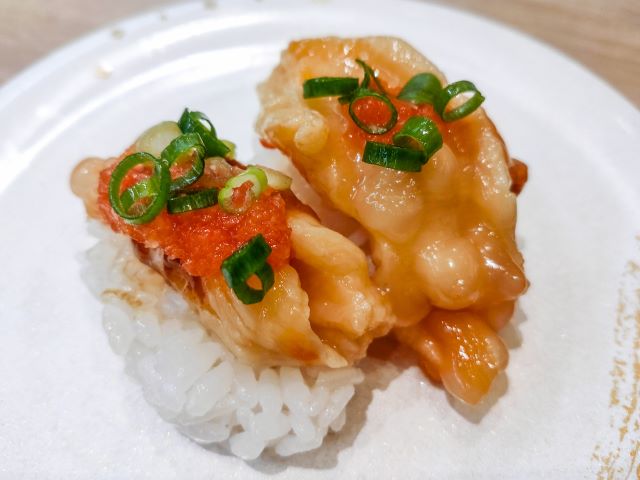 Its edible parts are the muscles and internal organs, which are removed by peeling the skin. Hoya's gonads get fatter in the fall and its muscles become leaner. Then, after May, the meat gets fatter and has eight times more glycogen than in winter, making it tastier and sweeter. If the body color of Ma-hoya is pineapple color, Aka-hoya is the color of a persimmon seed that has fully ripened to bright red.
Sea squirt takes in a lot of seawater, so it has a strong smell of the sea anyway. It also has a unique umami and bitter taste because it is rich in amino acids such as glycine and alanine.
Ma-hoya is generally considered to have a stronger flavor, while Aka-hoya is relatively mild. Ma-hoya is not for everyone, but it can be enjoyed as an unusual sushi topping.
---
We hope this information will be helpful.

Revision date: March 9, 2023
---
Share this article