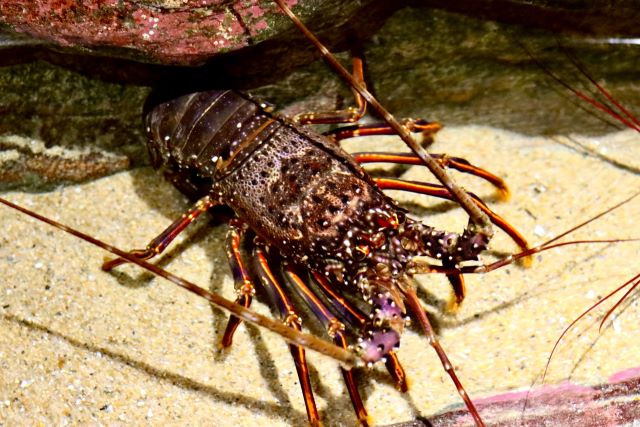 What is Japanese spiny lobster (Ise ebi)?
Japanese spiny lobster is found along the Pacific coast south of Ibaraki Prefecture and is distributed as far as Taiwan. Its length reaches up to 40 cm. Its well-known production areas include Chiba, Wakayama, Shizuoka, and Mie prefectures. Its Japanese name is Ise ebi.
It is very special to the Japanese. With its stately beard, armored appearance, and bright red color when boiled, it has long been regarded as a symbol of good luck, an indispensable part of celebratory occasions. It is also a symbol of longevity.
What does Japanese spiny lobster (Ise ebi) nigiri sushi taste like?
To be honest, it seems a waste for Nigiri sushi, as it is often used in cooking due to its good appearance. However, its flesh is resilient, and in particular, it contains glutamic acid, which is an umami component, as well as glycine and arginine, which give it a sweet taste, on a level with Kuruma prawn. It can be served raw or as Yushimo-zukuri, which brings out its sweetness and is delicious as nigiri. Some sushi chefs also use Kobujime, so adjusting the moisture content is a key point in preparation.
The name "Ise ebi" comes from the Ise Peninsula, which includes the Ise region, where it is often caught. The taste of fish caught in this region is good, and Chiba Prefecture currently boasts the largest catch of Ise ebi.
However, imported products such as Australian spiny lobster (Jasus novaebolandiae Holthuis) and Rock lobster (Jasus edwardsii (Hutton,1875)) from Australia and New Zealand are much more widely distributed. Rock lobster is distributed only in the southern hemisphere and looks different from Spiny lobster. The Rock lobster is different from the Spiny lobster in appearance, and the Spiny lobster has a transmitter that produces a sound, while the Rock lobster does not.
---
We hope this information will be helpful.

Revision date: March 7, 2023
---
Share this article