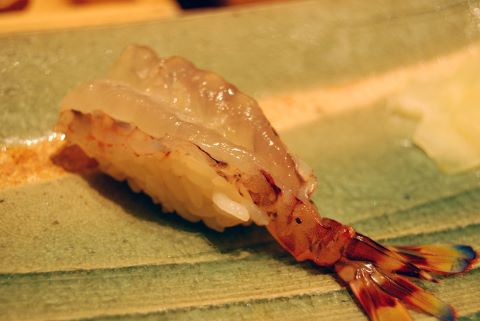 Both conveyor belt sushi and premium sushi have versions of sushi made with raw sweet shrimp or botan shrimp. However, in Edomae Sushi, boiled shrimp is always used. The use of raw shrimp in sushi started in the Kansai region. Moreover, in the Kansai region, there are many restaurants that make sushi with live Kurumaebi known as "Odori or Kassha". However, this way of eating may be declining nationwide. It is probably because there is increased texture when boiled, so it tastes better.
Going back to Odori, "Odori" means "dance" in Japanese and it is said that this name came from the fact that shrimp twitches on the sushi rice and looks like it is dancing. If you look up the roots, it seems that this method of serving started at a sushi restaurant in Kyoto City in the early Showa period. It spread throughout the Kansai region, but although Odori may look easy to make, the method is actually quite elaborate.
Let's introduce the common recipe here. First wash the live Kurumaebi with fresh water and start by bending the head with your hand while detaching it from the body, then peel off the shell. Next, peel the skin off the abdomen and cut the abdomen open vertically. Fresh shrimp is difficult to peel, so it is important to do it very carefully. Next remove the veins from the back and sprinkle on just a bit of mirin and vinegar, then lightly rinse off with ice water. After that, parboil just the tail in boiling, salted water to make it look attractive.
Then make the sushi with the open side facing up. The direction is important because it is easier to tell that the shrimp is dancing when it is arranged this way. To finish, sprinkle lemon juice over the shrimp meat. This stimulates movement of the body.
Now let's discuss how a customer eats Odori. It goes without saying that since the shrimp is still alive, the moment you dip the topping in the soy sauce, the shrimp twitches in its death throes, convulsing violently. Apparently the customers are greatly pleased to see this. We don't recommend the faint of heart to order this dish.
Incidentally, eating only the shrimp in this way is called "Odorigui". In China there is a dish in which living shrimp is soaked in Shaoxing rice wine or fermented alcohol, made drunk, and then eaten once it has settled down. These sorts of methods may be considered cruel in some western countries.
---
We hope this information will be helpful.

Revision date: June 6, 2022
---
Share this article