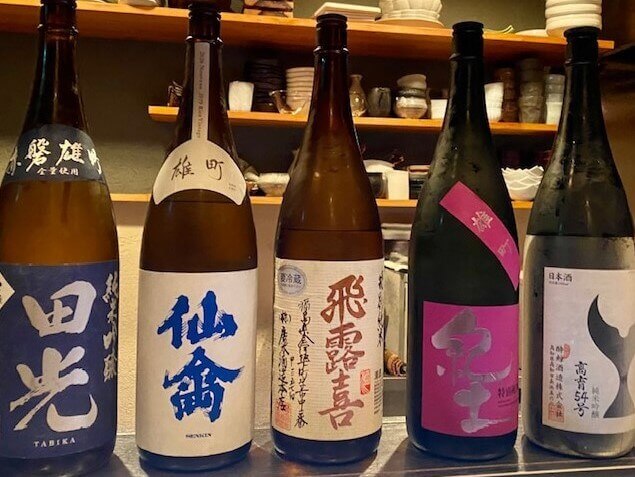 First, let's roughly categorize sake. The two main indicators that determine category are aroma and intensity. Is the aroma fragrant or mild? Is the taste mellow or sharp? This creates 4 categories, fruity (aromatic with a mellow flavor), light (mild aroma with a mellow flavor), umakuchi (mild aroma with a strong flavor) and matured (aromatic with a strong flavor).
Next, we will introduce the characteristics of each of the four categories, and the basic sushi toppings that pair well with each one.
When a fruity sake is poured into a glass, and when you take a drink, there is a sweet aroma that is almost fruity. The taste is juicy and elegant. We recommend pairing it at the beginning of a meal. However, the aroma may be overpowered by seafood, so it's quite difficult to pair it with sushi. However, don't be too concerned with the general theories, and instead, feel free to discover your own original pairings. We think fruity sake can be paired with robust-flavored fatty toppings such as fatty tuna and Splendid alfonsino, or rich flavored toppings such as sea urchin and conger eel.
e.g. Dassai Migaki Niwarisanbu, Dewazakura Ichiro Junmai Daiginjo, Born Kantsubaki
Light-flavored sake goes down easy and has a clean aftertaste. It is a refreshing taste. The aroma is very mild and it doesn't linger. This type of sake goes with a wide variety of foods, and it is the best sake to drink while eating a meal of sushi. It goes especially well with delicate flavors like cuttlefish and octopus and it goes with toppings that have enjoyable aromas such as shellfish.
e.g. Hitakami Yasuke, Hakkaisan Tokubetsu Honjozo, KUBOTA HYAKUJYU Tokubetsu Honjozo, Koshi no Kanbai Ginjo Bessen
Umakuchi sake has a subtle aroma, the innate sweetness of the rice, and a strong umami flavor. It is also characterized by the wide range of temperatures at which it can be served, from room temperature to the very hot "tobikiri-kan" (55℃ or higher). The aftertaste lingers a bit, and you won't tire of it even when drinking for a long time as part of your meal. This type of sake goes well with fatty Horse mackeral (Aji) or Japanese sardine (Iwashi). It also goes well with toppings known for umami flavors such as Japanese amberjack (Buri), oyster and salmon roe.
e.g. Shinkame Junmaishu, Tengumai Yamahai Junmai
The moment matured sake is poured into a glass, it gives off a condensed aroma reminiscent of dried fruits. As the amino acids and sugars have changed over several years, it has an interwoven complex flavor and aroma. The aftertaste lingers and it is characterized by its smooth texture on the tongue. This sort of sake goes well with potent and fermented crucian sushi.
e.g. Daruma Masamune Koshu, Hyakurakumon Junmai Koshu
Overall, the most important thing is that neither the sushi nor sake overpowers the other, and that the flavors and aromas harmonize in your mouth, without fighting each other. For example, sushi with a clear, rich flavor and a high umami content should be paired with a full-bodied sake, and subtle delicate-tasting sushi should be combined with a smooth and refreshing sake. That's the basics.
Main Types of Sake
Generally Japanese sake is made from rice and water, but it can be divided into two major categories depending on whether extra alcohol is added or not. Sake without added alcohol is called Junmaishu (純米酒). When alcohol is added, it's called Honzojoshu (本醸造酒) or Futsushu (normal sake).
Ginjoshu (吟醸酒) and Daiginjoshu (大吟醸酒) sakes are extremely rare as they were originally made as entrants in competitive exhibitions. A lot of careful work goes into the production from the selection of the rice used, high-precision milling, making of yeast and yeast mash, all the way to the final preparations.  If the milling percentage is 60% or less then it is ginjoshu. At 50% or less, it is Daiginjoshu and you can find variations of both Honjozoshu (sake without added saccharides and 120 liters or less seed alcohol per ton) and Junmaishu (sake without added alcohol or sugar). The Honjozoshu variations are just called Ginjo or Daiginjo sake, but the Junmaishu versions are called Junmai Ginjo and Junmai Daiginjo sakes.
Alcohol is added to Honjozoshu before the pressing process in order to bring out the fragrance and attain a pleasant balance. The additive amount is always the same and remains within 10% of the weight of the raw rice used. The milling is also kept to 70% or lower. While it is more fragrant than Junmaishu, the flavor is clean and refreshing, making it pleasant to drink.
Futsushu (ordinary sake) is sake that uses rice with a milling percentage of 70% or more, with distilled alcohol that uses 10% or more white rice, or non-distilled alcohol added as a raw ingredient.
Sake Glossary
On the label of sake, various characteristics are printed – how to brew, press, heat, stock and so on. It is sure that you can be more delighted to taste sake after knowing them.
Sake-brewing rice (酒米):It means rice cultivars suitable for sake making.
Rice polishing ratio (精米歩合) :It is the weight percentage of white rice to brown rice.
Sake meter value (日本酒度):It is used as a general indicator of dry- and sweetness in sake. However, sweet and dry are sensory perceptions, where SMV is simply a reflection of specific gravity, so the two do not always appear to correlate. The sugar glucose is sweet, but, the more other sugars influence the SMV, the less sweetness will be apparent. Further, the sense of sweet or dry is affected by the level of acidity. The higher the acidity, the drier the sake will taste. Sake with low acidity tends to taste sweeter.
The average Sake meter value range is from 0 -+5. Sake sweeter than the zero mark (that is to say in the minus range) is considered ama-kuchi ; that which reads more than +5 may be said to be kara-kuchi. According to the Tax Agency's market survey of sake products in 2012, the average values for various types of sake were: futsu-shu +3.7; ginjo-shu +4.3; junmai-shu +4.
Acidity (酸度):Those organic compounds which register as acidic are called organic acids, and these comprise almost all the acids found in seishu. 73% of sake acids are produced by yeast during the main fermentation, with about 17% coming from shubo, and the remaining 10% from steamed rice and koji.
Organic acids are important components of sake taste, giving acidity (sourness) and umami, with volatile acids also contributing to the aroma. In order of volume, there is most succinic acid, followed by malic acid, lactic acid, citric acid and acetic acid. In moromi, succinic acid is produced in the greatest amounts, followed by malic acid, then lactic acid. At the yeast starter stage, most lactic acid is produced, followed by acetic acid and succinic acid.
According to Tax Office statistics for 2012, the respective levels for futsu-shu, ginjo-shu and junmai-shu were 1.18, 1.32 and 1.50.
Amino acid content (アミノ酸度):The amino acids in seishu exist in the form of salts, and (together with lower peptides) displaying slight sweetness, umami, acidity and bitterness, are constituents of sake flavor. Where amino acid levels are too high, the sake is hard to drink with high levels of zatsu-mi off-flavor. When amino acid levels are low, the sake will be thinner and kirei ("clean"). Primary examples of amino acids include glutamic acid, glycine, alanine, valine, arginine and so on. Monosodium glutamate is sometimes used as an auxiliary material.
The average range of amino acids in sake is from 1.0 – 2.0. Light examples with a value of less than 1.0 can be said to be tanrei (light) sake, low in amino acids. Sake with high levels of amino acids at more than 2.0 will be full-flavored sake, often described with the adjective (noujun; tanrei and noujun may be considered opposites).
According to Tax Office statistics for 2012, the respective amino-acid levels for "regular" sake (futsu-shu), ginjo-shu and junmai-shu were 1.25, 1.30, and 1.54.
Kimotozukuri (生酛造り):
The first process of brewing sake is a pure culture of yeast to sake seed mash. Kimotozukuri is a traditional method of using lactic acid bacteria in this step. Sake made by this method is characteristic of the strong taste.
Yamahai-shikomi (山廃仕込み):
In the kimotozukuri method, the process of mixing rice and koji into a puree is cake Ymaorosi. In the meiji period, it turned out that it can also be done by a function of enzyme and yamaorosi process was abolished (haishi). This new method was called Yamahai.
Muroka-Namagenshu (無濾過生原酒):
As these sakes are not filtered and heated, you can enjoy their rich flavor. They have high alcohol content because not added water.
Nigorizake (にごり酒):
This sake is cloudy sake just made by filtering with a coarse cloth. One which is not pasteurized is called Kassei-nigorizake.
Namachozo-shu (生貯蔵酒):
Namachozo-shu is stored raw and pasteurized once when bottling.
Namazume-shu (生詰酒):
Namazume-shu is stored after pasteurized once and then bottled raw.
Nama-shu (生酒):
Nama-shu is stored raw and then bottled raw.
Hiire (火入れ):
Hiire is stored after pasteurized and pasteurized when bottling.
Fukuro-sibori (袋搾り):
The press method for premium sake like Daiginjo. To put the fermentation mash into a sake bag and drip with no pressure.
Hiyaoroshi (冷おろし):
New sake completed in early spring becomes aged well and the wildness of its taste is removed after stored during the summer. It is shipment in autumn.
Shiboritate (しぼりたて):
Sake shipped immediately after pressing in a sake brewery. It has a fresh taste.
---
We hope this information will be helpful.

Revision date: February 4, 2021
---
Share this article