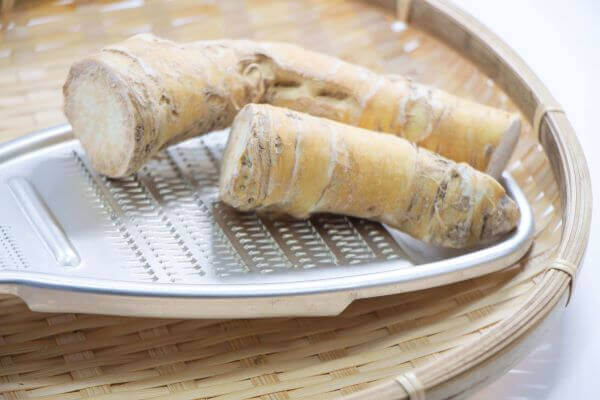 Horseradish is believed to have originated in Eastern Europe. It's a cruciferous vegetable, alongside mustard, wasabi, cabbage, and broccoli. Horseradish is very fertile, and buds and roots will sprout just by cutting the root stock part to an appropriate size and soaking it in water. Once transferred to soil the roots will multiply quickly even without any other efforts.
In Europe horseradish is used as an ingredient for sauces or to accompany sausage and roast beef, or as a subtle seasoning for other dishes. In Japan most is used as an ingredient in processed foods such as wasabi powder or wasabi paste. Unlike wasabi, horseradish is characterized by its pure white root and strong spicy flavor. In Hokkaido horseradish is called "Yamawasabi" and is a common sight at home dinner tables.
Farming of Yamawasabi for food started in the Meiji era and settled in Hokkaido. Currently over 90% of the domestic production in Japan is accounted for in Hokkaido. While it is grown throughout Hokkaido, the vast Yamawasabi fields befitting Hokkaido are especially prevalent in Abashiri and Kitami.
In Hokkaido, Yamawasabi is eaten as an accompaniment to white rice. Grated Yamawasabi is sprinkled on rice and there are also jars of "Soy sauce-marinated Yamawasabi" sold as a normal item at supermarkets. Besides on rice, it is also indispensable to Hokkaido cuisine as seasoning for hiyayakko (cold tofu) and sashimi.
---
We hope this information will be helpful.

Revision date: June 28, 2021
---
Share this article