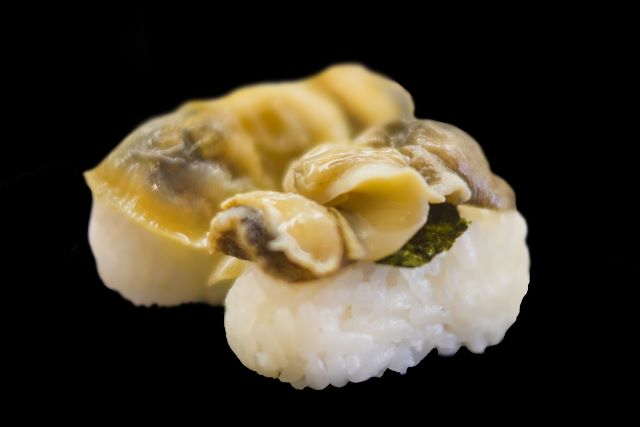 What is Aka (aka means red)-nishi-gai (gai means shell)?
There are three typical types of shellfish called Aka-nishi-gai: Naganishi, Ko-naganishi, and Aka-nishi. Yonaki-gai (夜泣貝), enthusiastically favored in Hiroshima and Yamaguchi prefectures, is the Naganishi (Fusinus perplexus (A.Adams,1864)) caught in the Seto Inland Sea. It is no longer caught in large quantities, and Ko-naganishi (Fusinus ferrugineus Kuroda & Habe,1961) from the Sea of Japan is used as a substitute. This shellfish is a smaller version of the Naganishi, and has a unique astringent taste in its entrails.
Aka-nishi (Top shell) is a carnivorous shell commonly found in tidal flats of inner bays in Japan, and in the Kanto region, it is a natural enemy of oysters and clams rather than a target for fishing. Its flesh is softer than that of the turban shell (Sazae), and some say it is tastier. In recent years, large quantities of frozen top shell has been imported cheaply from Turkey and Bulgaria, which face the Black Sea, so when you hear "Aka-nishi-gai" at conveyor belt sushi restaurants, you are probably talking about this. Aka-nishi-gai is considered an invasive alien species in the local market.
What does Aka-nishi-gai (Ko-naganishi) sushi taste like?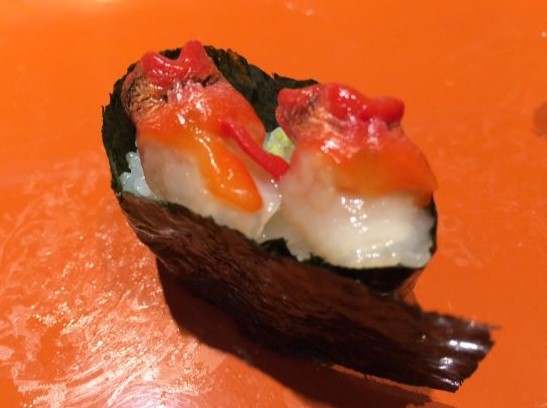 Ko-naganishi is a member of the family Fasciolariidae that inhabits the Sea of Japan from Mutsu Bay to Kyushu, where it grows to a shell length of about 8 cm. In Ishikawa Prefecture, it is caught in Nanao Bay (七尾湾) and is often used in sushi toppings. Its season is from September to November. The color of this shellfish is bright red, which is derived from its name. The texture is chewy and the aroma of the sea fills the mouth, and at Nigiri sushi, it is served in Gunkan maki, which some tourists come for. In Nanao, Ko-naganishi is called Aka-nishi-gai (赤西貝) instead of the standard Japanese name Aka-nishi (Rapana venosa (Valenciennes,1846)), which is a little confusing at times.
---
We hope this information will be helpful.

Revision date: March 20, 2023
---
Share this article