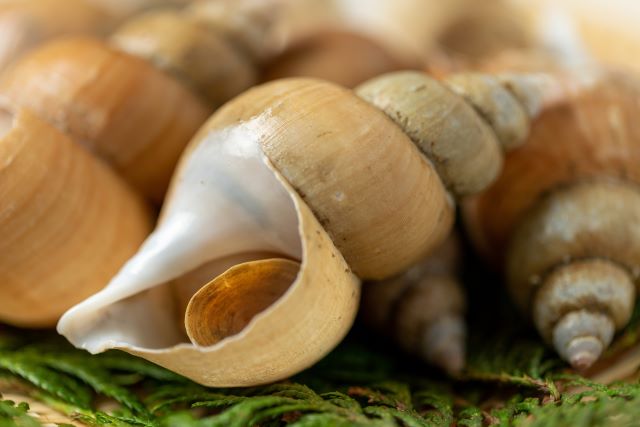 What is Baigai?
There are several species of shells called Baigai. Among them, the whitish Baigai such as Kagabai (Buccinum bayani Jousseaume,1883), Echubai (Buccinum striatissimum Sowerby,1899), Ooechubai (Buccinum tenuissimum Kuroda in Teramachi,1933), and other whitish Baigai, collectively called Shirobai.
Kagabai lives in depths of 200 to 500 m from the Noto Peninsula to Hokkaido, with shells reaching 15 cm in height, while Echubai (Finely-striated buccinum) is caught in the Sea of Japan west of the Noto Peninsula, at depths of 200 to 500 m, with shells reaching 15 cm in height. Ooechubai (Finely-striated buccinum) is endemic to the Sea of Japan north of Shimane, living at depths of 400 to 1,000 meters, and reaching a shell height of 25 cm. Ooechubai is considered the most delicious of the Shirobai, and the larger the size, the more expensive.
What does Baigai nigiri sushi taste like?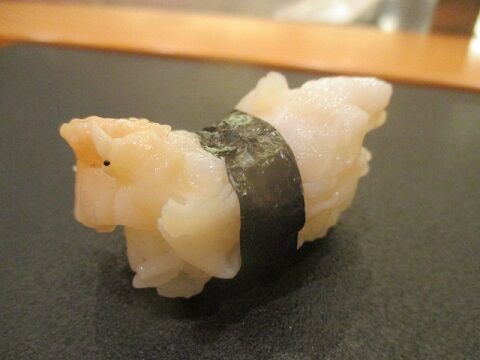 As the name "Shirobai" (Shiro means white) shows, the meat is pure white and shiny like white porcelain. After the characteristic crunchy texture of the shellfish, sweetness and bitterness spread softly in the mouth.
If you are worried about the hardness of the meat in Nigiri sushi, it might be better to taste it as sakamushi (sake steamed). It becomes moderately tender and easy to make nigiri. To enhance the light flavor, you can also boil it quickly in kombu dashi (kelp stock) during preparation.
It is not familiar as sushi topping in the Kanto region, but is often found at sushi restaurants in Kanazawa and other areas. As a side note, from the sound "bai (bai means double)" in Baigai, it is considered a fortunate food, as it doubles the amount of good fortune.
---
We hope this information will be helpful.

Revision date: March 22, 2023
---
Share this article