How to eat sushi properly
Generally, start by eating fish with a lighter flavor like white fish and move onto fish with a heavier flavor such as Toro, Uni, Japanese conger (Anago), and then Egg (Tamagoyaki). Finishing with Seaweed rolls at the end is a typical way.
The following menu is an omakase style at 3 michelin star restaurant in Ginza. Begin with white fish?
Marbled flounder (Makogarei)
Striped jack (Shima aji)
Golden cuttlefish (Sumi ika)
Akami
Chutoro
Ohtoro
Gizzard shad (Kohada)
Common orient clam (Nihamaguri)
Horse mackerel (Aji)
Kuruma prawn (Kuruma ebi)
Japanese halfbeak (Sayori)
Common octopus (Madako)
Mackerel (Saba)
Ark shell (Akagai)
Uni
Salmon roe (Ikura)
Japanese conger (Anago)
And Egg (Tamagoyaki) comes last, just along the general order. Perhaps the way this owner serves might have become common.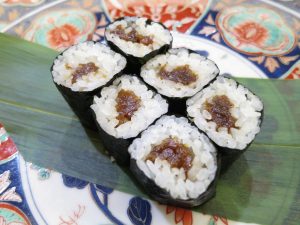 To maximize each flavor of toppings, have some pickled ginger or hot tea between different types of sushi for cleansing your palate. You don't really have to stick to the specific order, though. It seems like having customers eat freely is the idea held in common by most sushi chefs. However, it is true that you won't be able to taste the next flavor after eating something rather sweet. Japanese conger (Anago), Egg (Tamagoyaki), and Kanpyoumaki should be eaten at the end.
Sushi-interpreting service "sushiuniversity"
---
We hope this information will be helpful.

Revision date: April 22, 2020
---
Share this article