The ginger served in sushi restaurants is called "gari". There are people who just chomp down the gari since it's all free.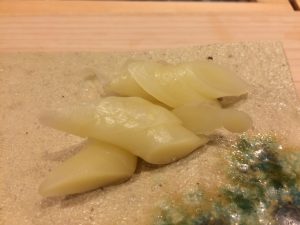 However, in certain prestigious restaurants where the gari is handmade, it does end up on the bill. This is because considering the time and ingredients that go into making the gari, the restaurant will be losing money if they don't charge for it.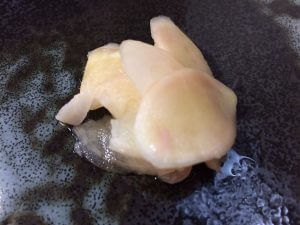 However, most sushi restaurants purchase their gari from companies that specialize in it. These mostly include pickling manufactures that have expanded to China or Southeast Asia and have factories there.
When made at these factories, large amounts of ginger is soaked in the stock solution, creating gari in bulk. The quality has improved greatly over the years, but often the fibers are crushed making it soggy, or the gari is stained from ume vinegar.
On the other hand, homemade gari and gari made in Japan is flavored with vinegar and salt while sugar is used sparingly as a subtle flavoring. Handmade gari is crunchy and chewy. The color is also the original pale yellow of ginger.
And during the fresh ginger season at the beginning of summer the price of fresh, domestic ginger jumps up to thousands of yen per kilogram. Since ginger has a high water content, it can be wrung out to reduce 1kg of ginger down to 300g. Making delicious gari by hand costs money. It is also a daunting task of making a year's worth in advance. Once it's done there has to be a refrigerator dedicated to storing only the gari.
When you put it that way, homemade gari is far more expensive than its imported equivalent. Providing homemade gari is one of the things that sets sushi restaurants apart from each other. Of course even if you're not charged for the gari, eating too much will affect your sense of taste for the meal.
Related contents: CONDIMENTS FOR SUSHI
Sushi-interpreting service "sushiuniversity"
---
We hope this information will be helpful.

Revision date: October 8, 2018
---
Share this article