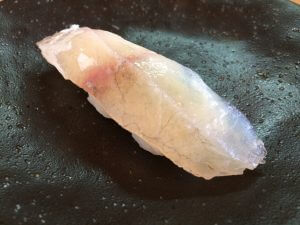 The first item recommended to taste is white-flesh fish. Because of its subtle flavor, it doesn't influence the following topping. Serving it for the very first piece of sushi is a standard move. However, absolute umami in the lightness can be taken as the details Japanese love and no other sushi toppings can offer.
Shiromi refers to white-colored fish meat. The fat content in Shiromi is generally low at about 1.2% in flounder and 4.7% in sea bream. Almost all white fish have a subtle and elegant taste. Furthermore, the rigor mortis takes over slowly and lasts for a long time, so it maintains the crunchy texture longer. Unlike Akami, the Shiromi fish don't really migrate. You can call yourself a sushi expert if you're able to recognize which fish it is just by looking at the cut.
Contrary to appearance, Salmon is classified as Shiromi. The salmon is originally grey, and the pink color comes from the pigments of the shrimp and crab on which it preys. We also think that Buri and Shima aji meat looks more beige than white. To be more specific, these are classified as Iromono, but there are relatively few chefs who actually know this term so we will refer to them as Shiromi. Once you're able to speak knowledgeably on Shiromi, you'll be a true Sushi Foodie.
What you should keep in mind is that most Shiromi fish used at sushi restaurants is sold as live fish. The broker implements Ikejime according to the instructions of the purchasing shop and then it is delivered. Basically, the chef calculates backward from the time he will make the sushi, aiming to maximize the umami. Furthermore, the price is at least 50% higher, considering the cost to transport from the fishing port to Toyosu Market, etc. This is one of the reasons Shiromi is so expensive at sushi restaurants.
Of course, only white fish that can be used for nigiri sushi is listed. Many varieties of Fugu exist, but with the exception of Torafugu (Japanese puffer fish), they are mainly used in conveyor belt sushi.
*Japanese terms will be italicized on sushi ingredients page. Parentheses after the English name indicate the scientific name.
<Shiromi-White flesh fish>
Aburabouzu-Skilfish
Aburagarei-Kamchatka flounder, Arrow-toothed halibut
Ainame-Green ling
Akahata-Blacktip grouper
Akaisaki-Schlegel red bass
Akakasago-Red deepwater scorpionfish
Akamanbo (Mandai)-Sunfish (Lampris megalopsis Underkoffler, Luers, Hyde and Craig, 2018)
Akamefugu-Globefish, Blowfish, Puffer
Akamekasago-Yellowbarred red rockfish
Akauo (Arasukamenuke)-Pacific ocean perch (Sebastes alutus (Gilbert, 1890))
Akayagara-Redcornetfish
Akodai-Matsubara's red rockfish
Aodai-Blue fusilier
Amadai-Horsehead tilefish
Amerikanamazu-Channel catfish (Ictalurus punctatus (Rafinesque, 1818))
Ara-Rock-cod
Arotsunasu-Slender tuna (Allothunnus fallaii Serventy, 1948)
Azukihata-Slender grouper
Bebizake-Red salmon
Biwamasu-Lake biwa trout
Bora-Flathead gray mullet
Budai-Japanese parrotfish
Burakkubasu (Ookuchibasu)-Black bass (Micropterus salmoides (Lacepède,1802))
Buri-Japanese amberjack
Chairomaruhata-Orange spotted grouper
Comonfugu-Globefish, Blowfish, Puffer
Ebotai (Ibodai)-Butterfish
Ebisudai-Japanese soldierfish
Engawa-Thin muscle of the dorsal fin of Japanese flounder, Marbled sole, etc.
Fedai -Red snapper, Starsnapper
Fugu (Torafugu)-Globefish, Blowfish, Puffer
Ginhirasu-Silver warehou (Seriolella punctata (Forster, 1801))
Ginmutus (Mazeranainame)-Mero, Patagonian toothfish (Dissostichus eleginoides Smith)
Ginmutus (Raigyodamashi)-Mero, Antarctic toothfish (Dissostichus mawsoni Norman)
Ginzake-Silver salmon
Gomafugu-Globefish, Blowfish, Puffer
Hachibiki-Japanese rubyfish (Erythrocles schlegelii (Richardson, 1846))
Hakkaku (Tokubire)-Sailfin poacher
Hakofugu-Black-spotted boxfish
Hamadai (Onaga)-Deepwater longtail red snapper
Hamafuefukidai (Taman)-Spangled emperor
Harisenbon-Longspined porcupinefish
Hedai-Goldlined seabream
Higanfugu-Globefish, Blowfish, Puffer
Himedai-Lavender jobfish
Hiramasa-Amberjack
Hirame-Japanese flounder (Olive flounder)
Hirasuzuki-Blackfin seabass
Hitozuraharisenbon-Black-blotched porcupinefish
Hoki-Blue haki, Blue grenadier, Whiptail (Macruronus novaezelandiae (Hector, 1871))
Hokke-Okhotsk atka mackerel
Hoshigarei-Spotted halibut
Houbou-Bluefin searobin
Houkihata-Broom grouper
Ikanago-Pacific sand lance
Inada-Japanese amberjack (30〜40cm)
Ira-Wrasse, Tuskfish
Isaki-Striped pigfish
Ishidai-Barred knifejaw
Ishigakidai-Spotted knifejaw
Ishigakifugu-Spotfin burrfish
Ishigarei-Stone flounder
Ishimochi (Shiroguchi)-Sliver croaker
Izumidai (Chika)-Nile tilapia (Oreochromis niloticus (Linnaeus,1766))
Kagamidai (Ginmatou)-John dorey, Mirror dory
Kagokakidai-Footballer
Kajika-Japanese sculpin
Kamasu (Akakamasu)-Barracuda
Kanafugu-Smooth Blaasop
Kanpachi-Greater amberjack
Karafutomasu-Pink salmon
Karasu (Gatoro)-(Takifugu chinensis (Abe, 1949))
Karasugarei-Greenland halibut
Kasago-Marbled rockfish
Kawahagi-Filefish
Keiji-Chum salmon, Dog salmon, Keta salmon
Kichinu (Kibire)-Yellowfin sea-bream
Kijihata (Akou)-Redspotted Grouper
Kingklip-Pink cusk-eel (Genypterus blacodes  (Forster, 1801))
Kinki (Kichiji)-Thornhead
Kinmedai-Splendid alfonsino
Kintokidai-Red bigeye
Kitenhata-Duskytail grouper
Kochi (Magochi)-Bartail flathead
Korodai-Painted sweetlip
Koshodai-Crescent sweetlips
Kue-Longtooth grouper
Kurodai (Chinu)-Blackhead seabream
Kurosabafugu-Dark rough-backed puffer
Kurosoi-Black rockfish
Kurumadai-Japanese bigeye
Kusafugu-Globefish, Blowfish, Puffer
Kyusen-Wrasse
Mafugu-Globefish, Blowfish, Puffer
Mahata (Hata)-Grouper (Rock-cod, Seven band grouper)
Mahi-mahi (Shiira)-Common dolphinfish
Makogarei-Marbled sole
Masunosuke-King salmon
Matsukawagarei-Barfin flounder
Mebaru-Rockfish
Medai-Japanese butterfish
Megochi-Bigeyed flathead
Meichidai-Nakedhead
Meitagarei-Finespotted flounder, Ridged-eye flounder
Mejika-Chum salmon, Dog salmon, Keta salmon
Mejina-Greeenfish, Nibbler, Rudderfish
Merurusa (New Zealand heiku)-Southern haku, Haku, whiting (Merluccius australis  (Hutton, 1872))
Mutsu-Japanese bluefish
Nametagarei (Babagarei)-Slime flounder
Nashifugu-Purple puffer
Nezumifugu-Spot-fin porcupinefish
Nezumigochi (Megochi)-Richardson's dragonet
Nijimasu-Rainbow trout
Nizadai-Scalpel sawtail
Nodoguro (Akamutsu)-Blackthroat seaperch
Ohyo- Halibut
Ojisan- Manybar goatfish
Okimebaru- Goldeye rockfish
Okoze (Oniokoze)-Devil stinger
Oomematoudai-(Allocyttus verrucosus (Gilchrist,1906))
Peherei-(Odontesthes bonariensis (Valenciennes, 1835))
Sake -Salmon
Sakuramasu -Cherry salmon
Salmon trout -(Artificially created rainbow trout varieties)
Samegarei -Roughscale sole
Sawara-Japanese spanish mackerel
Sennen-Enperor red snapper
Shima aji-Crevalle jack (Trevally)
Shimafugu-Striped puffer
Shinshu salmon-(A crossbreed between a male brown trout and a female rainbow trout)
Shirohirasu-White warehou (Seriolella caerulea Guichenot, 1848)
Shirokurabera (Makubu)-Blackspot tuskfish
Shirosabafugu (Sabafugu)-Half-smooth golden pufferfish
Shirosuzuki -Nile perch (Lates niloticus (Linnaeus))
Shirozake (Shake)-Chum salmon
Shosaifugu-Globefish, Blowfish, Puffer
Sugi-Cobia (Rachycentron canadum (Linnaeus, 1766))
Sujiara-Leopard coralgrouper
Suzuki-Japanese seaperch
Tai (Madai)-Red sea-bream
Taiseiyosake-Atlantic salmon
Tara (Madara)-Pacific cod
Tobinumeri-(Repomucenus beniteguri (Jordan and Snyder, 1900))
Tokishirazu (Toki)-Chum salmon, Dog salmon, Keta salmon
Torafugu-Japanese pufferfish
Toujin-Hardhead grenadier (Coelorinchus japonicus (Temminck and Schlegel, 1846))
Tsumuburi-Rainbow runner
Umazurahagi-Leatherfish
Umeiro-Yellowtail blue snapper
Umeiromodoki-Yellow and blueback fusilier
Usubahagi-Unicorn leatherjacket filefish
Usumebaru-Goldeye rockfish
Yaitohata-Malabar grouper
Yanagi-no-mai-Yellow body rockfish
Yarinumeri-(Repomucenus huguenini (Bleeker, 1859))
Yoritofugu-Blunthead puffer
Yoroiitatiuo (Higedara)-Armoured cusk
---
We hope this information will be helpful.

Revision date: January 24, 2023