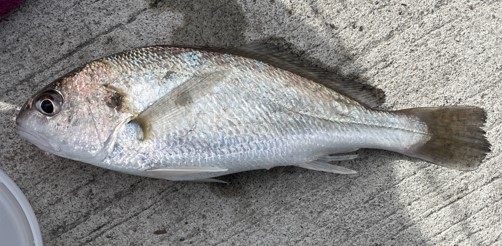 What is Silver croaker (Ishimochi)?
Silver croaker (Ishimochi or Shiroguchi) is distributed in the Tohoku region and southwards, the East China Sea, the Indian Ocean, and the western Pacific Ocean. It is mainly found on sandy mud bottoms at depths of 20~140m. Its body color is shiny silvery white with somewhat indistinct black spots on the tops of its gill covers. The Japanese name Ishimochi (Ishimochi means having the stones) is derived from the presence of large calcareous otoliths within the skull bones. The length of the body is about 40 cm. The season is summer. Caught in large quantities in the East China Sea by bottom trawl fishing, it is mainly used as a raw material for high-grade fish paste. The scientific name is Pennahia argentata (Houttuyn,1782).
What does Silver croaker (Ishimochi) sushi taste like?
Silver croaker (Ishimochi) can be eaten raw if fresh, and it goes well with vinegared rice. Its clear white flesh has a firm texture, but it is somewhat watery, so it is best served as sujime or yubiki.
There are many delicious white fish, but in terms of individuality, Silver croaker may be the top level among sushi toppings. Conversely, I am once again impressed by the power of vinegared rice that catches the peculiarities of Silver croaker. In the Kanto region, it is a popular fish for salted grilled fish, and it takes on a completely different flavor when grilled.
---
We hope this information will be helpful.

Revision date: April 19, 2023
---
Share this article