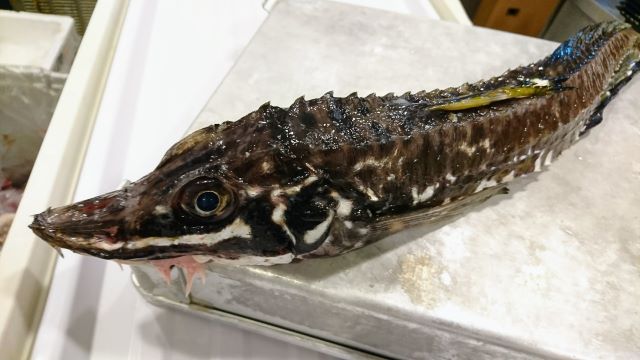 What is Sailfin poacher (Hakkaku)?
Sailfin poacher (Hakkaku) is distributed north of Toyama Prefecture on the Sea of Japan side, north of Miyagi Prefecture on the Pacific side, east coast of the Korean Peninsula, and Peter the Great Gulf. It inhabits shallow muddy areas at depths of about 150 meters. Body color is light blackish brown, and length reaches 40 cm.
The head is triangular in shape, and the body surface is angular, covered with spiny bony plates, and nearly octagonal in cross-section. It has a beard like a catfish. The male's fins are exceptionally large, hence the name Tokubire (Toku means special and bire means fin), while sushi chefs call it Hakkaku (Hakkaku means octagonal) because of the shape of its cross-section. The season is around from December to February. The scientific name is Podothecus sachi (Jordan & Snyder, 1901).
What does Sailfin poacher (Hakkaku) sushi taste like?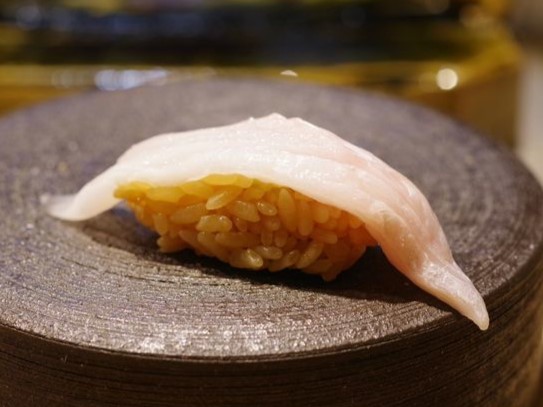 Sailfin poacher (Hakkaku) is not well-known south of the Tohoku region, but it is popular as sushi material at sushi restaurants in Hokkaido. Contrary to its appearance, it is a fatty white fish with a crunchy texture and a rich flavor and sweetness of fat that spreads in the mouth. Usually the white meat is clear, but its flesh is murky white due to the presence of lots of fat. Also, males are larger and have more fat.
However, because of this shape, the yield rate is quite low. Because there are so few of them in Hokkaido, even many Hokkaido residents know of them but have never eaten them, so they are almost never available at sushi restaurants in Tokyo.
You can find Hakkaku at Izakaya because it can be prepared any way you like: "salt-grilled," "dried overnight," or "deep-fried."
---
We hope this information will be helpful.

Revision date: June 7, 2023
---
Share this article