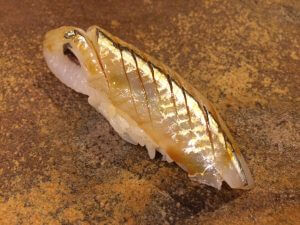 Hikarimono (Silver-skinned fish) includes horse mackerel, mackerel, sardines, sillago, and gizzard shad, generally referred to as blue-backed fish. Hikarimono all have high-fat content. It is approximately 7% in gizzard shad and horse mackerel. It is about 16% in mackerel. The taste is heavy. Many of the fish in this category lose their freshness quickly, so the preparations differ greatly from restaurant to restaurant. They say that you can tell how well a restaurant is doing by which Hikarimono they serve. This may be why many restaurants make sure to work hard on their Hikarimono.
Tachiuo really does look like a sword from the outside, so it seems like it should be classified as Hikarimono, but it's actually Shiromi. In the sushi restaurant sector, Hikarimono refers to sushi toppings for which Sujime is used in the preparations. Furthermore, there are chefs who classify Shima aji as Hikarimono when the silver skin is left on, and Shiromi when the skin is removed. There are many people finding it hard to eat but it is actually healthy and rich in nutritive value.
*Japanese terms will be italicized on sushi ingredients page.
<Hikarimono - Silver-skinned fish>
Akaaji
Aji (Maaji) - Japanese horse-mackerel
Ayu - Ayu
Ebodai- Japanese butterfish
Chika- Smelt (Hypomesus japonicus (Brevoort, 1856))
Gomasaba- Spotted mackerel (Scomber australasicus Cuvier, 1832)
Hamo -Daggertooth pike conger
Hatahata - Japanese sandfish
Iwashi - Sardine
Kaiwari - Whitefin trevally
Kamasu (Akakamasu)-Barracuda (Sphyraena pinguis Günther, 1874)
Karafutoshishamo - Capellin, Lodde (Mallotus villosus (Müller, 1776))
Kasugo (Chidai, Kidai)-Baby Red sea-bream (Crimson sea-bream, Eellowback sea-bream)
Kibinago - Banded blue-sprat (Spratelloides gracilis (Temminck & Schlegel, 1846))
Kisu - Japanese whiting
Kohada - Gizzard shad
Kyuriuo - Arctic smelt (Osmerus dentex Steindachner & Kner, 1870)
Mamakari (Sappa) - Big-eye sardine (Sardinella zunasi (Bleeker, 1854))
Maruaji - Amberfish
Muroaji - Amberstripe scad (Decapterus muroadsi (Temminck and Schlegel, 1844))
Nigisu - Deep-sea smelt (Glossanodon semifasciatus (Kishinouye, 1904))
Nishin - Pacific herring (Clupea pallasii Valenciennes, 1847)
Saba - Pacific mackerel
Sanma - Pacific saury
Sayori - Halfbeak
Shinko - Baby Gizzard shad
Shishamo - Smelt, Shishamo smelt (Spirinchus lanceolatus (Hikita, 1913))
Tachiuo-Largehead hairtail , Cutlassfish, Scabbardfish (Trichiurus lepturus Linnaeus, 1758)
Tobiuo - Japanese flyingfish (Cypselurus agoo (Temminck and Schlegel, 1846))
---
We hope this information will be helpful.

Revision date: January 10, 2023
---
Share this article