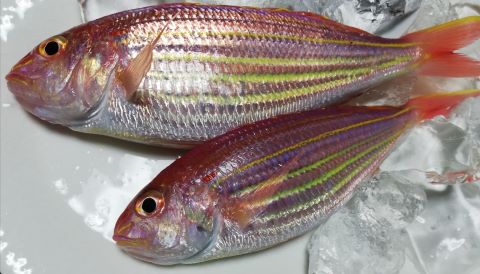 What is Golden threadfin bream (Itoyoridai)?
Golden threadfin bream (Itoyoridai) is distributed in Chiba Prefecture and southward except Ryukyu Islands, Korean Peninsula, East China Sea, South China Sea, Philippines, and Northern Australia. It has a low, slender body shape, is generally reddish yellow with 6~8 longitudinal yellow stripes on the body, and the upper lobe of the tail fin is elongated in a thread-like shape. It lives on muddy bottoms at depths of 40~100m and are 40~50cm long. Its season is from fall to winter.
The yellow stripes on its body are beautiful and do not fade after being caught, so it is often used for celebrations and festivals. It can be found in the market all year round, but the catch is not so large that it is in short supply. It is more highly prized in the Kansai region than in the Kanto region, where it is treated as a luxury fish. It is not a member of the bream family and used to be called Golden threadfin (Itoyori) without bream.
A closely related species, yellowbelly threadfin bream, is very similar, but the Toyosu market does not distinguish between the two and distributes them under the name Itoyori. There is almost no difference in taste. If anything, Yellowbelly threadfin bream (Nemipterus bathybius Snyder, 1911) is a bit softer than Golden threadfin bream (Nemipterus virgatus (Houttuyn, 1782)). Itoyori surimi is used to make Kamaboko (fish cake). It is one of the most important species of commercial fisheries.
What does Golden threadfin bream (Itoyoridai) sushi taste like?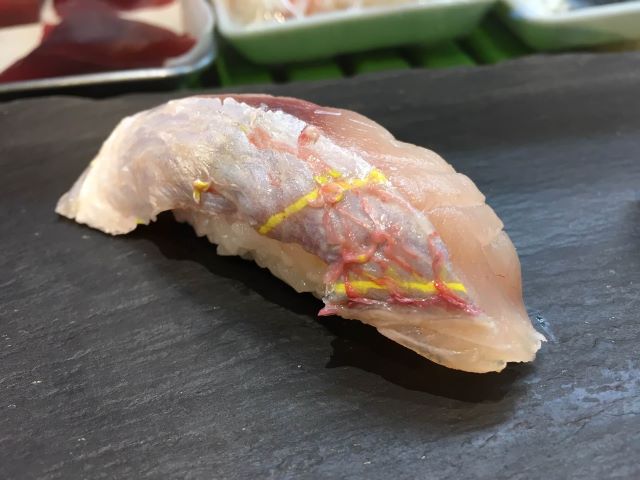 Golden threadfin bream (Itoyoridai) is used widely in French and Italian cuisine because it has a light, natural flavor and does not shrink when heated. However, it has high water content, so its flesh is a bit softer when made into sashimi.
Golden threadfin bream has umami not only in its meat but also in its skin, so immersed it in boiling water quickly to retain its umami flavor and give it a beautiful appearance.
And then Kobujime makes nigiri sushi with a mild and elegant flavor. The fat between the skin and the flesh contains umami, so it is sometimes seared to give it a savory aroma.
---
We hope this information will be helpful.

Revision date: April 13, 2023
---
Share this article